NEW DELHI, India (CNN) -- Scandal-hit Satyam Computer Services has appointed a senior executive as its new chief operating officer.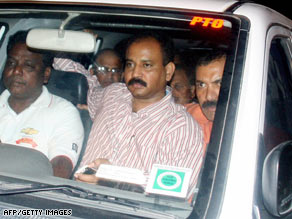 Satyam founder B. Ramalinga Raju is shown being sent to prison in Hyderabad in mid-January.
The company's new board appointed A.S. Murty to head Satyam on Thursday after a two-day meeting in the southern city of Hyderabad. Murty has been with the company for 15 years.
The board said its priority remains regaining trust.
The Hyderabad-based company is at the center of a massive corporate fraud case after its former chairman admitted to inflating profits with "fictitious" assets and non-existent cash.
The board said Thursday it has received bank lines of credit for 6 billion rupees ($130 million) toward working capital requirements. The money will help the company tide over its financial challenges, the board said.
The company's stock plummeted more than 70 percent after then-chairman B. Ramalinga Raju confessed in January to padding company balance sheets.

Watch the impact of this scandal »
Raju, his brother -- a former managing director -- and Satyam's chief financial officer face numerous charges, including criminal conspiracy.

The company is India's fourth-largest software-services provider. It serves almost 700 companies, including 185 Fortune 500 companies, and generates more than half its revenues from the United States.
It employs some 53,000 people and operates in 65 countries.
E-mail to a friend

All About India • Business • Satyam Computer Services Ltd.