LONDON, England (CNN) -- British Prime Minister Gordon Brown said Wednesday that the world is in a depression, the first time he has used the word to describe the global economic downturn, though a spokesman said later that the use of the word was a mistake.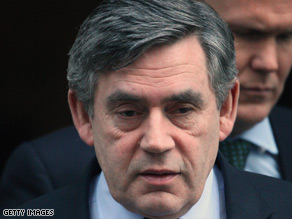 Gordon Brown departs for Prime Minister's questions earlier Wednesday.
"It's ... absolutely clear that we should agree as a world on a monetary and fiscal stimulus that will take the world out of its depression," Brown said during his weekly question time in the House of Commons.
There was no response from other lawmakers to Brown's use of the word. The prime minister's office at Downing Street had no immediate comment.
Asked by CNN to comment on the word, a spokesman from the prime minister's office at Downing Street said: "It wasn't deliberate. It's not what he thinks."
The spokesman would not elaborate further or tell CNN what Brown was trying to say.
Britain, like the United States, is officially in a recession, which is defined as two consecutive quarters of falling GDP. There is no widely accepted definition of a depression.
The Economist magazine suggested in December that there are two principal criteria for distinguishing the two terms: a decline in "real" GDP that exceeds 10 percent; or one that lasts more than three years. Real GDP accounts for inflation.
The Great Depression in the United States qualified on both counts, with GDP falling 13 percent during 1937 and 1938, and GDP plummeting by around 30 percent between 1929 and 1933.
Don't Miss

Some analysts have already used the term "depression" to describe the economic situation in the United States. Albert Edwards of Societe Generale wrote last month that it is looking likely in America, while labor economist Peter Morici, of the University of Maryland, said the United States is "already in the jaws of a depression."
Others are not so sure. Anirvan Banerji of the Economic Cycle Research Institute told CNN that for this to be a depression, things should look "much worse -- several times as bad" as they are now.
E-mail to a friend

All About Gordon Brown