LONDON, England (CNN) -- Hundreds of workers at British power plants and refineries walked off the job in unofficial "wildcat" strikes Tuesday to show their support for another spontaneous strike now entering its second week.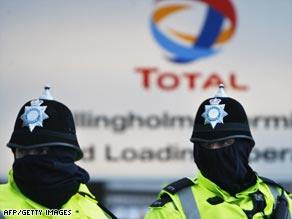 Officers wrap up warm to police the strikers at Lindsey Oil Refinery on Monday.
Union members at the Lindsey Oil Refinery in northwest England downed tools last Wednesday, accusing Total, the oil company which owns the refinery, of discriminating against British workers. Total is bringing in labor from other countries for a major construction project at the site.
Spontaneous strikes, unsanctioned by national unions, were under way Tuesday in every corner of the country: at the Stanlow oil refinery in western England, Drax power station in the northeast, Petroplus Coryton Refinery in the southeast and Longannet power station in Scotland.
A total of nearly 1,000 workers were off the job at the three English locations. Scottish Power did not specify how many workers were on strike.
Representatives of all four plants said contractors, not full-time staff, had walked off the job, and all said operations were not affected.
But the strikes threaten to spread. Unite, one of Britain's largest unions, called last week for a national protest in front of Parliament.
The dispute began when Total announced it had hired an Italian firm that planned to employ 600 to 1,000 workers from Italy and Portugal for a major construction project at the Lindsey oil refinery.
The refinery, in northeast England, employs about 500 full-time staff.
The union accuses Total, one of the world's largest oil and gas companies, of discriminating against British workers.
Total rejected the allegation.
Don't Miss
"It has never been, and never will be, the policy of Total to discriminate against British companies or British workers. We have been a major local employer for 40 years and the majority of our 500 permanent staff are local," the company said in a statement released Monday.
It said IREM, the Italian company, had won the sub-contract through a fair and legal bidding process.
Talks between Total, union leaders, the main contractor at the refinery, and ACAS, an arbitration service, went into their second day Tuesday. No progress was announced.
British unemployment is at a 10-year high, according to the country's National Statistics Office.
Britain's main labor groups have all issued statements in support of the striking workers.
Derek Simpson, general secretary of Unite, Tuesday proposed a three-point plan for dealing with the wildcat strikes: finding a resolution at Lindsey that would allow British laborers to work on the contract; launching a government investigation of contracting procedures in the country; and overturning European legal precedent that he said "prevents unions from taking action to prevent the erosion of UK workers' pay."
Simpson issued a statement saying, "The government is failing to grasp the fundamental issues. The problem is not workers from other European countries working in the UK, nor is it about foreign contractors winning contracts in the UK. The problem is that employers are excluding UK workers from even applying for work on these contracts.
"No European worker should be barred from applying for a British job and absolutely no British worker should be barred from applying for a British job," he said.
E-mail to a friend

All About TOTAL SA • Oil Production and Refining