LONDON, England (CNN) -- Striking British oil refinery workers were sitting down Monday for talks with management, nearly a week after walking off the job in protest at the use of foreign workers.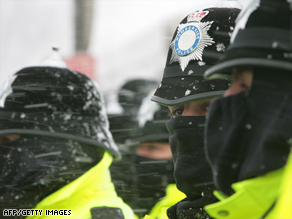 Police officers guarding the Lindsey oil refinery wrap up against wintery conditions.
Union members at the Lindsey Oil Refinery in northern England began their strike Wednesday, and workers at other sites across the country began unofficial "wildcat" strikes in support of them.
Contract workers at the Sellafield nuclear site in Cumbria, Heysham nuclear power station in Lancashire and Staythorpe power station near Newark in Nottinghamshire were among those taking unofficial action for the first time Monday, Britain's Press Association reported.
Unite, one of Britain's largest unions, called last week for a national protest in front of parliament.
The striking workers accuse Total, the oil company which owns the refinery, of discriminating against British workers by bringing in labor from other European Union countries for a major construction project at the site.
British unemployment is at a 10-year high, according to the country's National Statistics Office.
Total, one of the largest oil and gas companies in the world, rejects the allegation.
Don't Miss
"It has never been, and never will be, the policy of Total to discriminate against British companies or British workers. We have been a major local employer for 40 years and the majority of our 500 permanent staff are local," the company said in a statement Monday.
It said an Italian company had won the construction contract through a fair and legal bidding process. It said that between 600 and 1,000 workers have been employed -- directly and indirectly -- on the project for over 18 months.
Total added that talks would take place Monday between its representatives, senior union leaders, Jacobs -- the main contractor at Lindsey Oil Refinery -- and arbitration service ACAS.
Britain's main labor groups have all issued statements in support of the striking workers.
"With big job losses announced every day, workers are fearful for their jobs. Refinery workers are understandably and rightly angry at employers who have not given British-based workers the opportunity to apply for new jobs," said Brendan Barber, the general secretary of the Trades Union Congress.
"The union is doing everything in its power to ensure that employers end this immoral, potentially illegal and politically dangerous practice of excluding UK workers from some construction projects," Unite joint General Secretary Derek Simpson said.

"All workers across Europe need to be reassured that they have equal treatment in the job market, and that means equal access, with jobs being widely and transparently advertised and filled fairly, where pay, conditions and respect for collective bargaining are not undermined at other workers' expense," said Kathleen Walker Shaw of the GMB union.
"If we cannot guarantee this, we will have a free for all of social dumping across Europe, to the benefit of none."
E-mail to a friend

All About TOTAL SA • Oil Production and Refining