LONDON, England (CNN) -- Almost a week after workers at an oil refinery in northern England walked off the job in protest at the use of foreign workers, CNN looks at the reasons behind the strike action which continues to spread to other sites across the UK.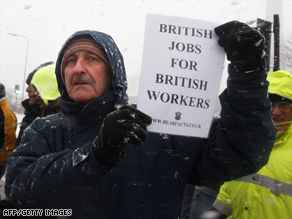 Protesters demonstrate outside the Lindsey Oil Refinery in northern England, on February 2.
What is the strike about?
The dispute surrounds the decision by oil giant Total to award Italian company IREM a contract to build a new hydro desulfurization facility at its Lindsey Oil Refinery in North Lincolnshire.
Five British companies and two European contractors bid for the work before it was awarded to the Italian firm on the basis that it was supplying its own permanent workforce from Italy and Portugal. As a result, workers and their union representatives at the Lindsey refinery accused Total of discriminating against British workers.
Total rejected this accusation saying that "IREM was selected, through a fair and competitive tender process, as the most appropriate company to complete this work."
Who is involved?
Workers from Total's Lindsey Oil Refinery walked off the job on January 28 in protest at the use of foreign labor at the 500-acre site. Union organization Unite said the contract should have been given to British workers.
The following day, energy workers from sites across Britain staged an unofficial walk-out in support of their Lindsey colleagues. They included 700 workers from the giant Grangemouth oil refinery in Scotland, in addition to workers at power stations across England, Scotland and Wales.
By Monday, the dispute had spread to contract workers at the Sellafield nuclear site in north-west England.
Are the protests legal?
In the UK any strikes called without a ballot and proper notification are counter to employment law and therefore illegal.
What is the UK government saying?
Despite his "British jobs for British workers" pledge at the Labour party conference in 2007, British Prime Minister Gordon Brown described the unofficial strikes as "counter-productive."
Speaking from the World Economic Forum in Davos, Switzerland, Brown said he understood why people were worried: "They look round and say, well, why can't we do these jobs ourselves."
However he said instead of spontaneous strike action, "what we've got to do over time, as I've always said, is that where there are jobs in this country, we need people with the skills, developed in this country."
Don't Miss
Business Secretary Peter Mandelson also stepped into the dispute at the weekend when he insisted a statement from energy firm Total provided "full reassurance" and dispelled the "perception" that British workers had been discriminated against.
He told the BBC that under European Union law companies had the right to sub-contract work to those companies "best suited" for the job.
What are the possible repercussions of the dispute?
Peter Mandelson's comments are likely to anger unions, already incensed by the ability of companies to hire foreign workers below the union-negotiated "going rate."
The wave of unofficial "wildcat" strikes which have already engulfed a major part of Britain's energy sector could eventually threaten supplies nationwide.
Last year the Grangemouth refinery -- Britain's third-largest -- shut down completely after a strike by refinery workers. This resulted in the closure of the Fortes Pipeline System which carries 40 percent of Britain's crude production from 50 oil fields in the North Sea, forcing increased fuel imports from Europe.
Grangemouth is one of nine refineries across Britain, therefore the implications of industrial action spreading across Britain's entire energy sector would be disastrous for an already depressed economy.
What next?

Apart from yet more strike action, bosses from Total will meet sub-contractors and union leaders Monday for hastily-arranged talks to resolve the dispute.
Moves are also under way to set up a special panel, under an independent chairman, to review the recruitment of the hundreds of Italian and Portuguese workers on the multi-million dollar plant in North Lincolnshire.
E-mail to a friend

All About TOTAL SA • Oil Production and Refining