(CNN) -- The world's stock markets moved into positive territory Wednesday despite an International Monetary Fund report which said the global economy was heading for its worst year since World War II.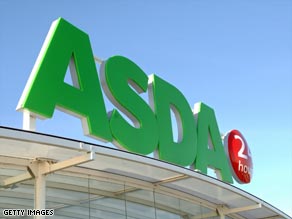 Retail giant ASDA has announced it is adding 7,000 staff in the UK this year.
The IMF, a global organization of 185 countries, said world growth this year would fall to 0.5 percent from 3.4 percent in 2008 despite the action taken by countries to boost spending.
It said plummeting asset values, decreasing household wealth and sinking demand would result in the first contraction of advanced economies' GDP since World War II.
The organization said even emerging and developing economies -- including China, India, the Middle East and Brazil -- would see a marked fall in growth.
However, the IMF predicted 2010 would bring the green shoots of recovery.
London's FTSE 100, the CAC 40 in Paris and Frankfurt's DAX 30 all closed higher -- 2.4 percent, 4.1 percent and 4.5 percent respectively -- despite the gloomy report.
In the U.S. the Dow Jones closed up about 2.5 percent, the Nasdaq 3.5 percent and the S&P 3.3 percent.
The U.S. Federal Reserve kept its key interest rate near 0 percent, and said it is prepared to take additional steps to try to fix the troubled U.S. economy and credit markets.
Asian markets closed before the IMF report was published but also scored gains. Seoul's KOSPI index led Asian sharemarkets with a leap of nearly six percent.
Tokyo's Nikkei index closed up a half-percent and Australia's All Ordinaries Index gained a percent.
Hong Kong's Hang Seng index was down about a percent.
According to media reports, Panasonic is set to close three of its plants with the loss of more than 500 jobs after a drop in expected profits. Panasonic declined to comment.
However the UK finally received some good news, with retail giant ASDA -- part of the Wal-Mart empire -- announcing it was to add 7,000 staff this year.
E-mail to a friend