By Al Goodman, Madrid Bureau Chief





MADRID, Spain (CNN) -- Spanish police have arrested six people linked to a $600 million fraud on the London stock market, after an investigation started by British authorities four years ago, a National Police statement said Wednesday.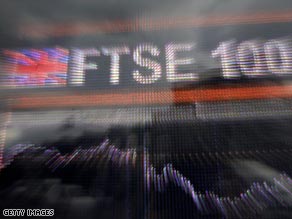 Spanish police have arrested six men over an alleged $600 million fraud on London's stock market.
The alleged kingpin is an Argentine man who lived in Barcelona. The other five suspects are Spanish men, a police spokesman told CNN. Their identities were not immediately provided.
The alleged fraud started in 2003 and British authorities began investigating in 2005, the police statement said.
"Through complex business and stock market operations, as well as fraud, the suspects managed to get the value of shares of a business to increase without deposits to back it up, subsequently enriching themselves through the sale of the fraudulent shares," the statement said.
Spanish police said Britain's Serious Fraud Office (SFO) began investigating a company in 2005 that had traded for two preceding years on a branch of the London stock exchange but then went out of business after failing to vouch for £370 million (more than $600 million at the time) in deposits with two other financial entities.
The company, which was not named in the police statement, had worked to obtain international credit certificates and had dealings with an unnamed Brazilian company, "all with the aim of generating the share price increase of the company," the statement said.
Investigators determined that the company had made false claims in advertising its shares, in specialized media in London, to generate interest.
Four of the suspects were detained in Barcelona, and one each in Madrid and in the southeastern city of Elche, in Alicante province, the statement said. A Barcelona court is coordinating the investigation.
E-mail to a friend