By Simon Hooper
CNN





DAVOS, Switzerland (CNN) -- Russian Prime Minister Vladimir Putin and Chinese Premier Wen Jiabao called Wednesday for the complete reform of the world's financial systems during keynote speeches at the World Economic Forum in Switzerland.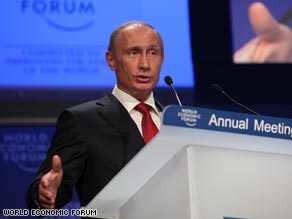 Russian Prime Minister Vladimir Putin said the financial crisis constituted a "perfect storm."
The global economic meltdown dominated the agenda on the opening day of the annual meeting of powerbrokers and opinion formers, with Putin telling delegates that the crisis constituted a "perfect storm."
While economists and analysts could -- and should -- have predicted the crisis, Putin said, instead it had "come unexpectedly, just as winter comes unexpectedly to Russia every year."
"Just a year ago, American delegates speaking from this rostrum emphasized the U.S. economy's fundamental stability and its cloudless prospects. Today, investment banks, the pride of Wall Street, have virtually ceased to exist," Putin commented.
But he said Russia wished U.S. President Barack Obama's new administration success in tackling the country's economic problems and said Moscow was ready to join international efforts to address the crisis.
"We expect all our partners in Europe, Asia and America, including the new U.S. administration, to show interest in further constructive cooperation in dealing with all these issues," Putin said.
He said it was time to "do away with virtual money" and establish an "economy of real values" grounded in a "just and efficient global economic architecture."
Earlier, Chinese Premier Wen called for greater cooperation between developed and developing nations in tackling the global financial crisis and building a new world economic order.
He also warned that further action was needed internationally to "restore market confidence" and protect world economic growth.
"Political leaders must be forward-looking," Wen told delegates. "They should be responsible to the entire international community as well as to their own countries and people."
Wen admitted that the economic crisis had severely affected China's businesses, notably because of falling demand for Chinese exports. But he said the fundamentals of China's economy remained in "good shape," predicting 8 percent growth in 2009, following 9 percent growth in the previous 12 months.
Don't Miss
He called for a raft of measures to be implemented to address the root causes of the crisis and create a "new international financial order."
They included the reform of supra-national financial institutions to grant more power to developing nations and the establishment of a multilateral trading regime.
"In tackling the crisis, practical cooperation is the effective way," Wen said. "The financial crisis is a test of the readiness of the international community to enhance cooperation and a test of our wisdom."

Earlier, several dozen pro-Tibetan demonstrators gathered peacefully in Davos about a kilometer from the conference venue to protest over Wen's presence at the annual meeting of powerbrokers and opinion formers.
More than 2,500 participants from 96 countries are attending this year's meeting, including 40 heads of state or government.
E-mail to a friend