(CNN) -- Honda, Japan's second biggest automaker by volume, has cut production by 50,000 vehicles in North America and Japan, as the car industry battles falling demand amid the economic crisis.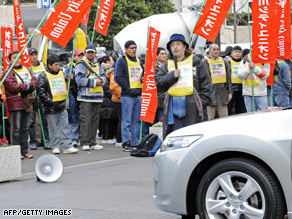 Honda workers protest Tuesday's production cuts outside the car company's HQ in Tokyo.
Demand has collapsed due to the recession around the world and shortage of credit, and carmakers are putting off major investments in a bid to cope.
Honda's North American output will be 1.26 million cars in the year to March, 14 percent below forecasts announced last April.
And in Japan production will fall to 1.15 million units, 12 percent below its target, Honda said in a statement on Tuesday.
However, Honda will boost production in China, where demand for its fuel-efficient vehicles was strong, Reuters.com reported.
Honda shares rallied on the production news in China, soaring 9.3 percent in Tokyo to end at 2,125 yen, beating the benchmark Nikkei index's rise of 4.93 percent.
The news came one day after tens of thousands of job losses were announced as American economists said they expected an already deep recession to worsen in 2009.
Honda's subsidiary Yachiyo Industry, which makes small vehicles, said Tuesday contracts for 500 temporary workers would be be ended at the end of February due to the cutbacks.

About 100 temporary employees, many of them Brazilians, later staged a demonstration outside the company's headquarters in Tokyo.
The Brazilians used a loophole in Japan's tight immigration laws to work when the car industry was booming but have been hit hard by job cuts.
E-mail to a friend