(CNN) -- Italian car giant Fiat is joining forces with ailing U.S. automaker Chrysler, the two companies announced Tuesday, in a move that will give Fiat a large stake in one of the Big Three while supplying Chrysler with access to new technology.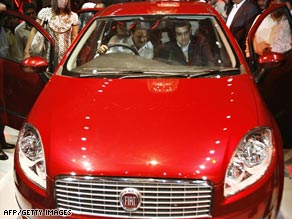 Fiat has taken a stake in the U.S. automaker Chrysler, according to reports.
Under the terms of the proposed alliance, Fiat will receive an initial 35 percent equity interest in Chrysler. Fiat will not provide cash funding to Chrysler under the deal.
"The agreement will offer both companies opportunities to gain access to the most relevant automotive markets with innovative and environmentally friendly product offerings, a field in which Fiat is a recognized world leader," Sergio Marchionne, the chief executive of Fiat Group, said in a statement.
The deal will give Chrysler access to Fiat's fuel-efficient vehicle platforms and components to be produced at Chrysler plants, the companies said.
Fiat would provide avenues for distribution in key markets for Chrysler outside North America, along with management services to help Chrysler meet the terms of the U.S. auto bailout.
Chrysler Chairman and Chief Executive Bob Nardelli described the partnership as a "great fit" that creates the potential for a global automotive powerhouse.
Don't Miss
The cost savings in design, engineering, manufacturing, purchasing and sales and marketing, together with Fiat's fuel-efficient technology, will increase Chrysler's competitiveness, he said.
"The partnership would also provide a return on investment for the American taxpayer by securing the long-term viability of Chrysler brands in the marketplace, sustaining future product and technology development for our country and building renewed consumer confidence, while preserving American jobs," Nardelli said in the statement.
Officials with the United Auto Workers (UAW) union said they were happy with the partnership.
"We're on board with this important strategic initiative as it will help preserve the long-term viability of our great company, its brands and of course UAW-Chrysler jobs," said UAW Vice President General Holiefield.
Chrysler nearly ran out of money late last year before accepting a U.S. Treasury rescue involving $4 billion in emergency loans.
It has until March to prove it is a viable business and keep the loans, with further government funding then also possible.
E-mail to a friend