LONDON, England (CNN) -- Shares in UK banks continued to fall Monday, despite new plans announced by the government to help financial institutions affected by the global financial crisis -- only months after a previous multi-billion-dollar bailout.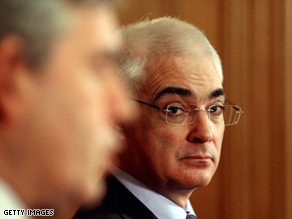 UK Prime Minister Gordon Brown, left, and finance minister Alistair Darling announce the new bailout.
Royal Bank of Scotland -- which earlier Monday posted a UK corporate record loss of up to £28 billion ($41.5 billion) last year -- saw its shares plummet by 68 percent by 1620 GMT.
Other shares also hit included Lloyds, which dropped 32 per cent; HSBC, down by 11 percent; and Barclays, which lost around a quarter of its value Friday -- a drop of 16 percent.
By 1620 GMT, the FTSE 100 in London was down by 1.6 percent, the DAX 30 in Frankfurt had fallen by 1.5 percent and the CAC 40 in Paris was down by 1.1 percent.
The new UK program, which the government calls the Asset Protection Scheme, "is designed to protect financial institutions against exposure to exceptional future credit losses on certain portfolios of assets," the Treasury said in a statement -- in other words remove or limit the toxic debt which has created much of the financial crisis.
Announcing the plan, UK Prime Minister Gordon Brown said: "These are comprehensive measures focused on one purpose: increasing the amount of lending that is available to families and to the businesses who are the backbone of our country and who want to invest and create jobs."
Don't Miss
Brown said that the UK government will demand banks set and meet "precise and clear quantitative targets" for new lending as a condition of the bailout.
Last October the UK government announced it would inject nearly $90 billion of taxpayers' money into banks and lend them a further $350 billion in return for preference shares and control over dividend payments and executive compensation.
It was also hoped that the plan would encourage banks to lend more funds to small businesses and home buyers, bringing confidence back to markets and kickstarting the economy.
Royal Bank of Scotland said in a statement reported by the UK's Press Association that acquisitions including its takeover of the Dutch bank ABN Amro had contributed to its historic losses.
Brown blamed "irresponsible losses accumulated in American sub-prime markets."
And the prime minister also blamed overseas banks, which have pulled borrowing from the UK market in comments reported by PA, for exacerbating the credit crunch.

"Even as UK banks might seek to meet their commitments to existing customers," Brown said, "overall credit availability in the economy remains inadequate to support growth in the economy."
Meanwhile the Lloyds Banking Group -- formed following the merger between HBOS and Lloyds TSB -- began trading for the first time Monday.
It believes the merger will bring annual savings of at least £1.5 billion by the end of 2011, in a statement reported by PA, once its takeover of HBOS has concluded.
The new bank has an estimated 145,000 staff and 3,000 branches in the UK, although unions have signaled fears about possible job cuts.
HSBC, in a statement to the London stock exchange, dampened speculation that it might ask for assistance from the UK government, reported PA.
"HSBC has not sought capital support from the UK Government and cannot envisage circumstances where such action would be necessary," it said. "HSBC has long been one of the world's most strongly capitalized banks and is committed to maintaining this position."
E-mail to a friend

All About Lloyds TSB Group plc • HBOS plc • The Royal Bank of Scotland Group plc