TOKYO, Japan (CNN) -- Japanese automaker Honda announced Friday it will cut production and eliminate its temporary, part-time workforce of 3,100, while smaller rival Subaru's parent company warned it would post losses for 2008.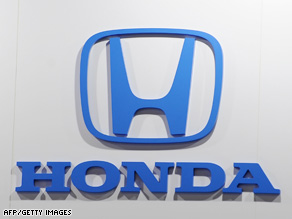 Both companies blamed slumping global demand for the moves.
Honda said it would let contracts with its entire force of temporary, part-time workers lapse at the end of April. It also said it would cut domestic production back to 1.17 million vehicles from 1.31 million, reducing output by about 10 percent.
In a brief statement, Japan's No. 2 automaker blamed "the change in the global market" for the moves. In December, Honda CEO Takeo Fukui announced reduced forecasts for 2009 and matching production cuts, warning there was "no prospect for recovery" on the horizon.

And Fuji Heavy Industries Ltd., which makes Subaru, revised its financial projections for the 2008 fiscal year downward from an expected profit to a likely loss of nearly 19 billion yen ($190 million).
Fuji had predicted a 10 billion yen profit for its fiscal year, which ends March 31. The company blamed slow global demand and a strong yen for its reversal.
E-mail to a friend

CNN's Kyung Lah contributed to this report.