LONDON, England (CNN) -- Citigroup has announced plans to split the company in two after reporting a bigger than expected fourth quarter loss of more than eight billion dollars.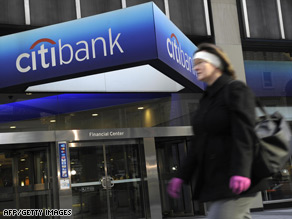 Citigroup cut 52,000 jobs in 2008 -- most during the fourth quarter -- amid a global economic downturn.
The company's full year loss came in at more than 18 billion dollars after a calamitous year for the global banking sector marred by falling revenues and debt losses.
Citigroup says its decision to split into two operating units -- Citicorp and Citi Holdings -- will allow the bank to focus on its core business.
"With lower risk and a streamlined set of businesses, we expect Citicorp to be a high-return and high-growth business," Citi's chief executive Vikram Pandit said in a statement.
"And with the new Citi Holdings, we will be able to tighten our focus on risk management and credit quality for businesses with strong market positions that that are not central to our franchise."
The company's business and retail banking units will be brought under the umbrella of Citicorp, an entity with assets of some $1.1 trillion dollars with banking franchises in the U.S., Asia, Latin America, Central and Eastern Europe and the Middle East.
Citi Holdings will be the new home of the company's non-core businesses that it considers "attractive and long-term businesses with strong market positions."
They include the bank's brokerage and asset management businesses, local consumer finance units including CitiFinancial and CitiMortgage in the U.S. and a "special asset pool" used to manage assets covered by the loss sharing agreement with the U.S. government parties.
Don't Miss
Ciitgroup also confirmed on Friday it had entered into a definitive agreement on a loss sharing program with the U.S. Treasury department, the Federal Deposit Insurance Corporation and the Federal Reserve Bank of New York, covering assets worth $301 billion.
The deal -- first announced in November 2008 -- means Citigroup will accept responsibility for the first $39.5 billion dollars in losses, after which the taxpayer would pay 90 percent of the outstanding amount.
Citigroup says the agreement reduced the company's risk-exposure. It also added 14 billion dollars to its loan loss reserves to help it buffer further economic turmoil.
Referring to the company's 18 billion dollar full year loss, chief executive Vikram Pandit said: "Our results continued to be depressed by an unprecedented dislocation in capital markets and a weak economy."
He added: "However, a number of our core customer franchises continued to perform well and Citi's customers remain active and engaged with us."
In the fourth quarter of 2008, Citigroup posted a net loss of $8.29 billion dollars, or $1.72 per share, primarily due to write-downs and losses in securities and banking.
Restructuring costs also took their toll, although 52,000 job losses over the year -- 29,000 in the fourth quarter -- helped to reduce expenses.
Over the year, Citigroup reported a loss of $18.72 billion dollars, or $3.88 per share.
Its stock rose more than 10 percent in pre-market trade in New York after steep falls on Thursday amid concern about the need for a government bailout.
E-mail to a friend

All About Business • Citigroup Inc.