LONDON, England (CNN) -- Shares in Anglo Irish Bank have been suspended after the Irish government stepped into nationalize the bank after deciding a proposed recapitalization was longer an "appropriate and effective" way to keep the lender afloat.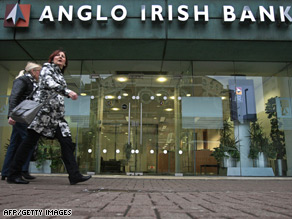 The Irish government says a recapitalization plan is no longer enough to safeguard the future of Anglo Irish Bank.
The government had planned to pump almost two billion dollars into the bank in return for a 75 percent stake and an annual fixed dividend to the government of 10 percent.
Late yesterday, it made a last minute decision to take the bank into public hands, saying it was a major financial institution with a balance sheet of some $150 million whose "viability is of systematic importance to Ireland."
An extraordinary general meeting schedule for this morning has been cancelled. Shareholders have been advised their money is safe and they'll be contacted within the next few days.
Shares in Anglo Irish fell sharply last year as the global credit crunch hit Ireland's once booming economy.
Its woes were compounded in December when it was discovered that Chairman Sean FitzPatrick had temporarily transferred 115 million dollars in loans to another bank prior to the Group's year end.
At the time, the bank said the loan transfer didn't breach banking or legal regulations, but was "inappropriate" in terms of transparency.
FitzPatrick resigned, followed by non-executive director Lar Bradshaw. The next day Group Chief Executive David Drumm also submitted his resignation.
Referring to the incident, the Irish government said that "unacceptable practices that took place... have caused serious reputational damage to the bank at a time when overall market sentiment towards it was negative."
The government said: "in the circumstances, the State is the only available potential owner."

New Chairman Donal O'Connor will remain in his position and the bank will continue normal operations.
Legislation will be put to the Irish Parliament on Tuesday to take the bank into State hands.
E-mail to a friend