(CNN) -- Asian markets tumbled Thursday after a sell-off on Wall Street, with the Nikkei slumping more than 5 percent in afternoon trading after Japan's Cabinet office reported a record drop in November machinery orders.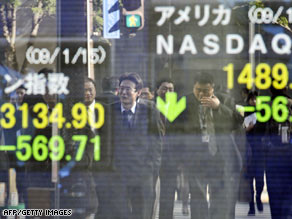 Businessmen are reflected on a share prices board in Tokyo, Japan, on Thursday.
Private-sector machinery orders, excluding volatile maritime construction and power-generation equipment, dropped a 16.2 percent for the month, the agency reported, while orders from overseas were down 14.4 percent.
South Korea's KOSPI was down 5.2 percent, Australia's All Ordinaries index shed 4.2 percent, and Hong Kong's Hang Seng gave up 5.8 percent.
On Wall Street, stocks slumped Wednesday as a bleak retail sales report and more dour news from the banking sector amplified fears of a prolonged recession.
After the close, Apple CEO Steve Jobs said he's taking a medical leave through the end of the second quarter because his health-related issues are "more complex" than he thought. Shares tumbled 10 percent in after-hours trading.
The Dow Jones industrial average lost 250 points, or 2.9 percent, ending at its lowest point since December 1. The Dow has now tumbled for six sessions in a row.
The Standard & Poor's 500 index lost 3.4 percent and ended at the lowest point since Dec. 1. The Nasdaq composite lost 3.7 percent and closed at its lowest point since December 4.
Wednesday's decline extends the 2009 selloff. Stocks have slipped through much of the first two weeks of the year as worse-than-expected economic and corporate news has caused investors to question the year-end rally.
"There's a sense of 'Wow. We knew it was bad, but not this bad,'" said Drew Kanaly, chairman and CEO at Kanaly Trust Company.
He said that no one is surprised by the downturn, but rather the scope and speed of it. "I think it's caught people a little off guard, how fast the economic conditions have started to deteriorate."
In particular, investors were reacting Wednesday to the weakness in the banking sector, said Steven Goldman, market strategist at Weeden & Co.
Deutsche Bank reported a huge quarterly loss, HSBC may need to raise billions in capital and JPMorgan Chase's results are looming. Investors are also taking a sour reaction to news that Citigroup is selling a majority stake in its brokerage unit to Morgan Stanley, a move that would seem to indicate the beginning of the break-up of the troubled banking firm.
"Citigroup selling their crown jewels in a bad environment is definitely contributing to the selling over the last week," Goldman said.
Between the bear market lows of Nov. 20 and the end of the first session of 2009, the S&P 500 rallied nearly 24 percent. Since then, the S&P 500 has lost 9.6 percent and looks to be headed for more declines in the short term.
But the financial sector has fared far worse. Between Nov. 20 and the first session of the year, the KBW Bank index gained over 23 percent, roughly comparable to the S&P 500. Since then, it has lost almost 21 percent, far surpassing the broad market's decline.
E-mail to a friend