(CNN) -- German Chancellor Angela Merkel's ruling CDU party has proposed a $67 billion (€50 billion) fiscal stimulus package of investment and tax cuts aimed at helping the German economy through the recession.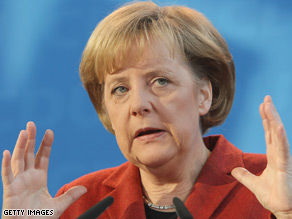 Angela Merkel is seeking re-election with Germany's economy in recession and jobless figures rising.
The 10-point plan, outlined at a party conference in the eastern German town of Erfurt, follows a $27 billion package outlined in November that was criticized by many in Germany and abroad as too modest. Other economists though say Merkel went far enough with the program.
How much the final program is worth was likely to be clear after a meeting on Monday, Reuters.com reported, between the CDU, its Bavarian sister party, the Christian Social Union, and the SPD.
Merkel is seeking re-election in September and launches her campaign with Germany's economy officially in recession and jobless figures rising.
Merkel's finance minister, Peer Steinbruck, sparked a diplomatic row last month when he dismissed Britain's $30 billion stimulus as "crass Keynesianism."
Steffen Kampeter, of German Chancellor Angela Merkel's CDU party, added that the plans meant a "complete failure" of British economic policy.
UK Prime Minister Gordon Brown is due to have talks on the European response to the economic crisis with French President Nicolas Sarkozy in Paris on Wednesday, before traveling to Berlin to speak to Merkel the following day.
Sarkozy last month announced plans to inject €26 billion -- $33 billion -- to relaunch the French economy, saying the cost of doing nothing would be far worse.
E-mail to a friend