SEOUL, South Korea (CNN) -- Ssangyong Motor Co., South Korea's fifth largest automaker, filed for bankruptcy Friday, citing the company's worsening finances.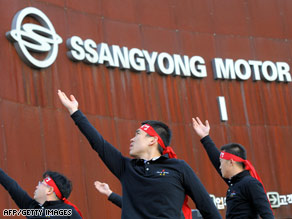 About 800 unionized workers rally at a Ssangyong Motor plant in Pyeongtaek, South Korea, on December 30.
Ssangyong is seeking court receivership and filed its application for protection from creditors with the Seoul Central District Court, the company said in a statement. During reorganization, Ssangyong plans to cut costs through voluntary retirement and paid leave, according to the statement.
Ssangyong is the South Korean unit of China's Shanghai Automotive Industry Corp., which holds a 51 percent share in the company.
Ssangyong has been battered by the global financial downturn and credit crunch like many other automakers. A large portion of the company's profits used to come from SUVs, which was hurt by high gas prices earlier in the year before the credit crunch additionally cut into sales.
Last year vehicle sales at Ssangyong dropped nearly 30 percent, the Yonhap news agency reported.
E-mail to a friend