(CNN) -- Asia markets pushed largely higher at the start of the first full trading week of 2009, with Tokyo's Nikkei average up 2.1 percent at Monday's midday break.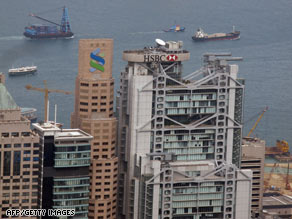 The Hong Kong headquarters of Standard Chartered and HSBC as seen on Saturday
In Seoul the KOSPI gained 1.2 percent, and Hong Kong's Hang Seng picked up 1.3 percent, but the All Ordinaries index in Australia was down 0.6 percent.
Wall Street goes back to work Monday, coming off a strong session. Stocks rallied Friday, with investors starting the year on the right foot after an abysmal 2008. The Dow closed above 9,000 for the first time since November.
The Dow Jones industrial average rose 258 points, or 2.9 percent. It was the second-best start of the year on a point basis, according to Dow Jones. The Standard & Poor's 500 index gained 3.2 percent and the Nasdaq composite rose 3.5 percent, while the major European indices gained 2 to 4 percent on Friday.
The new year started strong in light trading -- but the weeks ahead are expected to be a true test, as market pros return from the holidays to digest a barrage of bad economic news, a smattering of corporate profit warnings and possibly a new economic stimulus plan.
In a heavy week of economic news, this week's big standout is the U.S. government's December unemployment report, due Friday. Employers are expected to have cut 475,000 jobs from their payrolls after cutting 533,000 jobs in the previous month. The unemployment rate, generated by a separate survey, is expected to have risen to 7 percent from 6.7 percent in the previous month.
"Investors should be prepared for the worst in terms of the labor market," said Matt King, chief investment officer at Bell Investment Advisors. "The unemployment rate could rise to more than 7 percent this month and may go to 8 percent, 9 percent, or 10 percent in the year ahead."
Despite the scary numbers, King thinks investors have likely already accounted for this amid the deepening recession. Other analysts say many of the negatives have been factored in already, and the market may be primed for near-term gains after the battering they took in 2008.
"In the short term, I think it's sustainable," said Paul Mendelsohn, chief investment strategist at Windham Financial Services. "Investors are looking to the inauguration, a lot of tax-loss selling is out of the way, which is massive, and the recent advance, although on light volume, has been across the board."
But beyond that, he said it's likely Wall Street will drop back down to the lows of last November, or fall even further, as the focus on the recession resumes.
E-mail to a friend