MIAMI, Florida (CNN) -- Hurricane Bertha, weakened once again to a Category 1 storm, was causing large swells and high surf on Bermuda beaches Thursday.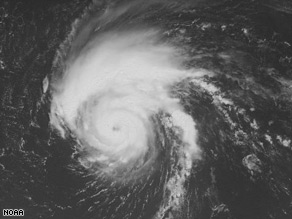 A satellite photo from 10:45 a.m. ET Wednesday shows Hurricane Bertha over the Atlantic.
Forecasters said it was too soon to tell how much impact the storm might have on the Atlantic island, but predict the hurricane could intensify during the next 24 hours, the National Hurricane Center reports.
Bertha's intensity has fluctuated. At its peak, it was a major Category 3 hurricane with top winds of 120 mph. Its wind speed dropped to 75 mph, barely hurricane strength, before picking up once again and reaching Category 2 intensity late Wednesday, with top sustained winds of 105 mph.
At 11 p.m. Thursday, Bertha's center was about 385 miles (620 kilometers) southeast of Bermuda. iReport.com: How are you preparing for hurricane season
It was moving northwest at near 8 mph, the hurricane center said. The storm's maximum sustained winds had decreased slightly throughout the day to about 85 mph with higher gusts, forecasters said.
The storm is expected to turn toward the north and slow down in the next two days, the NHC said. "Large swells and high surf are affecting Bermuda, and these conditions are expected to persist for the next few days."
Some fluctuations in strength remain possible over the next few days, forecasters said Thursday.
The storm formed July 3 off the coast of Africa near the southern Cape Verde Islands. It strengthened into a hurricane early Monday.
Bertha, the first hurricane of the 2008 Atlantic season.
The first tropical storm of the season, Arthur, formed May 31 near the coast of Belize and dumped heavy rain on Central America and southern Mexico.
E-mail to a friend

All About Hurricanes and Cyclones • National Hurricane Center