GAZA CITY (CNN) -- Israel allowed dozens of trucks carrying relief aid into Gaza on Monday, but the United Nations said the aid will not be enough to alleviate a worsening humanitarian situation as Israel's military assault on Gaza enters its third day.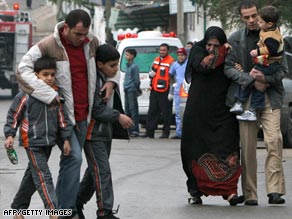 Palestinian families leave the area after an Israeli airstrike damaged their houses Monday in Gaza City.
Israeli military sources said 50 trucks carrying humanitarian aid crossed into Gaza on Monday through the Kerem Shalom border crossing and more are expected to cross later in the day.
"We had about 40 trucks yesterday, we hope [to have] about 100 today," said Karen AbuZayd, the commissioner-general of the U.N. Relief and Works Agency for Palestinian Refugees (UNRWA).
"But we need a lot more than that because we were completely out of stock," she told CNN on Monday.
She called on Israel to open more border crossings to humanitarian aid.

Watch looming humanitarian crisis in Gaza »
Israel says its military is targeting the Islamic militants that rule Hamas and are responsible for ongoing rocket attacks on southern Israel. The Israeli military says it is taking precautions to avoid civilian casualties.
At least 62 civilians in Gaza are among the more than 300 people killed in three days of Israeli airstrikes, UNRWA spokesman Chris Gunness said Monday.
Iyad Nasr, a spokesman for the International Committee of the Red Cross, said Israeli sanctions had left Gaza's hospitals "almost incapable of functioning" even before the attacks, and those facilities are now "bleeding every resource available."

See photos of Gaza in crisis »
Other countries are trying to help.
Spanish representatives planned to meet with Palestinian Authority humanitarian officials in the West Bank to evaluate the situation in Gaza, according to Spain's Foreign Ministry.
The Spanish government has provided two truckloads of medical supplies to the Red Cross in Ramallah, West Bank, the Ministry said.
Spain has earmarked nearly $19 million (13 million euros) for humanitarian aid to the Palestinian territories for this year, it said.
Meanwhile, Iran was trying to ship 2,000 tons of food and water to Gaza on Monday, according to an Iranian media report.
A ship carrying the supplies and members of Hamas, Hezbollah and Islamic Jihad left Monday for Egypt, which has not yet issued a permit for the vessel, according to Mojtaba Rahmandoost, director of the Society for the Defense of Palestine, who was quoted in a Fars News Agency report.
Iran has long openly supported Hamas -- the Palestinian militant group that rules Gaza -- and provided it with weapons and training. Like Hamas, Iran's government does not recognize Israel's right to exist.
Egypt has tried to broker agreements between rival Palestinian factions Hamas and Fatah, as well as between the Palestinian leadership and Israel.
Palestinians in Gaza's densely populated capital are in a state of panic as Israel continues its air assault and readies tanks at the border, AbuZayd said.
"People are beginning to fight among themselves, and it's just quite a chaotic time," she said.
AbuZayd said the threat of a ground incursion has residents "very concerned."
E-mail to a friend

All About Israel • Gaza • Palestinian Politics • United Nations