By Octavia Nasr
CNN
(CNN) -- The dramatic developments in Gaza over the past three days have driven Arab citizens to the streets, where they have displayed anger directed first and foremost at their own governments.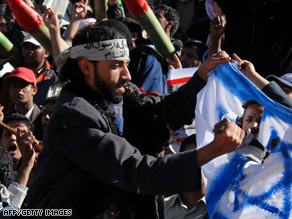 A Yemeni protester rips through an Israeli flag in the capital, Sanaa, on Sunday, December 28.
In Yemen, thousands of demonstrators gathered in the capital, Sanaa, shouting slogans in support of Gaza and its residents and burning Israeli and U.S. flags.
They cried out against the League of Arab States, which delayed discussion on the crisis.
One demonstrator told the Al-Jazeera network, "The Arab League is worthless. ... They're all worthless leaders, and they should all go home." Al-Jazeera is based in Doha, Qatar.
Israel has been conducting airstrikes in Gaza for three days, in what they say is retaliation for repeated rocket attacks into southern Israel by Hamas. Hundreds of people have died, mostly Hamas militants, according to Palestinian security forces.
In Sudan, the scene was similar. A woman wearing a Hamas banner around her forehead told Al-Manar TV, "Where are the Arab leaders? Where are their actions? Enough condemnation and finger-pointing. Show Gaza your support."
Students at the University of Qatar boycotted their classes and demonstrated their support for Gaza.

Watch a report from CNN's Octavia Nasr »
One student spoke about what he saw as his moral responsibility: "Our ancestors claimed that the news about the Palestinian disaster reached them late in 1948. We have a responsibility to our children and the future generations. We can't tell them we heard about the Gaza disaster of 2008 but didn't do anything."
Don't Miss
Jordan's parliament held a special session in solidarity with Gaza. But one parliamentarian defied the speaker's orders and burned the Israeli flag before stepping on it in the middle of applause from some of his colleagues.
The images played repeatedly on Arab media.
Egypt has been the recipient of much criticism in this crisis. Hamas supporters say Egypt has sold the Palestinians out by being too close and friendly with Israel and the United States.
From Egypt, political analysts retaliated, blaming Hamas for ending the Egyptian-brokered cease-fire, thus inviting the Israeli airstrikes.
One expert speaking to the Dubai-based Al-Arabiya blamed Hamas for "presenting Gazans on a silver plate to the Israeli monster."
He then blamed Syria and Iran for not taking military action to stop the bloodshed in Gaza.
E-mail to a friend

All About Gaza • Yemen • Sudan • Egypt • Qatar • Al Jazeera Satellite Channel