(CNN) -- The U.S. Commission on International Religious Freedom cited several examples in a recent report of abuse toward Christians in Iraq.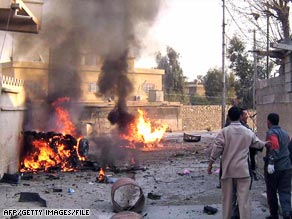 Iraqis rush to a car bomb explosion at a Christian church in Kirkuk in January.
Christian women have been forced to wear hijab scarves by extremist Muslims and some have been made to leave their jobs because they refused the hijabs. Militants have threatened and killed women for socializing publicly with men who are not their relatives.

Attackers have hit businesses judged as "un-Islamic," such as alcohol shops, beauty salons, cinemas, and video stores, and owners of such businesses have fled the country amid threats and attacks.

Thousands of Christians have fled their homes. The Dora neighborhood of Baghdad, a mixed locale that once had 2,000 Christian families, had just 300 remaining by the summer of 2007. Islamic militants at one point urged Christians to leave their homes, pay a tax, or convert to Islam.

Donny George, the former director general of the Iraqi Museums and chairman of the State Board of Antiquities and Heritage, told the commission that, at his parents' home in Dora, "we started hearing that the Muslim extremists will do to the Christians exactly what they did to the Jews in 1948. This meant complete cleansing of the people from the country."

This fall, a political controversy led to attacks that killed 14 Christians and caused about 13,400 to flee their homes. The controversy was sparked by the failure of a measure that sought to give minorities more of a voice in provincial governments.

Displaced Christians said they received threatening text messages and "had been approached by strangers asking to see their national identity cards, which show religious affiliation," the commission said.

Some of the displaced began to return, but a November 11 bombing that killed two girls "created new fears and slowed this trend."

Lawmakers later adopted a measure that sets aside fewer seats for minorities than was first proposed.

In September, two Christians were kidnapped and killed in Mosul, including a doctor whose family paid a ransom of $20,000.

In July, the Assyrian International News Agency said that a group called "The Battalion of Just Punishment, Jihad Base in Mesopotamia," believed to be affiliated with al Qaeda in Iraq, sent threatening letters to Christians in the Mosul area.

In April, drive-by attackers in Baghdad shot and killed an Assyrian Orthodox priest, Youssef Adel.

In February, gunmen abducted the Chaldean Archbishop of Mosul, Paulos Faraj Rahho. His body was found two weeks later.

In February, kidnappers in Basra abducted Christian missionaries from the Norwegian Churches Organization.

In January, bombers struck six church buildings in Mosul and Baghdad on Epiphany and Orthodox Christmas Eve, feast dates when many Catholic and Syriac Orthodox Iraqis hold baptisms.

In January 2006, 16 people were killed and 20 people were injured when attackers struck churches in Baghdad, Mosul, and Kirkuk as well as the Vatican Embassy.
E-mail to a friend

All About Iraq • Al Qaeda in Iraq • Christianity