JERUSALEM (CNN) -- At least 24 Russian tourists have been killed in one of Israel's deadliest traffic accidents when their bus plunged down a ravine, throwing nearly all of the passengers out of the vehicle.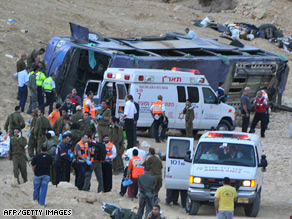 Rescuers gather at the site of the bus crash north of the Israeli Red Sea resort of Eilat.
Israeli police said the bus driver tried to pass another bus on the road to Eilat, but lost control of the vehicle, crashed through the metal railing and into a 60-meter-deep (200 feet) ravine.
The bus landed on its side, as bodies and luggage were strewn about. Ambulance services lined up the bodies on stretchers in the ravine.
"I saw people flying out of the windows as the bus rolled down the slope," one driver who witnessed the crash told Reuters.com.

Watch rescuers on the scene »
The bus was carrying more than 50 tourists from St. Petersburg, Russia, including families on their way to the Red Sea resort city of Eilat for vacation, Russian and Israeli officials said.
The accident happened on the road between Mitzpe Ramon and Eilat.
Twenty-three other tourists were seriously injured and airlifted to several hospitals, police said.
The tour group arrived from St. Petersburg, shortly before the accident at a nearby airport, a tourism ministry spokeswoman said.
E-mail to a friend

CNN's Shira Medding contributed to this report.