From Jomana Karadsheh
CNN

BAGHDAD, Iraq (CNN) -- The brother of the journalist now famous for hurling his shoes at President Bush said his sibling's actions were "spontaneous" and represented millions of Iraqis who want to "humiliate the tyrant."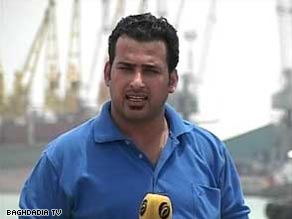 TV reporter Muntadhar al-Zaidi, in a file photo, was jailed after throwing his shoes at President Bush.
Dhirgham al-Zaidi, who sometimes worked as his brother's cameraman, described the reporter's hatred for the "material American occupation" and the "moral Iranian occupation."
Muntadhar al-Zaidi's feelings were influenced by watching the agony suffered by everyday Iraqis. Most of the reporter's stories focused on Iraqi widows, orphans, and children, said the brother.
Sometimes the 29-year-old journalist would cry. Moved by the tales he reported of poor families, he sometimes asked his colleagues to give money to them. On most nights, he returned to his home in central Baghdad after reporting from Sadr City, one of the country's most violent slums and the epicenter of several of the war's pitched battles.
Muntadhar al-Zaidi's reporting for Egypt-based independent television Al-Baghdadia was "against the occupation," his brother said. The journalist would occasionally sign off his stories "from occupied Baghdad."
Yet Dhirgham al-Zaidi said he was "shocked" when he saw his brother hurling his shoes at President Bush at a Sunday news conference after a surprise visit by Bush to Baghdad.

Watch Muntadhar al-Zaidi throw his shoes at Bush »
Don't Miss
Bush swiftly ducked the flying footwear and later told reporters aboard Air Force One that the "bizarre" incident was not a sign of popular opinion in Iraq.
"These journalists here were very apologetic," Bush said. "They ... said this doesn't represent the Iraqi people, but that's what happens in free societies where people try to draw attention to themselves."
The reporter called his shoe-throwing -- a traditional insult in Arab culture -- a "farewell kiss" to a "dog" who launched the 2003 invasion of Iraq.

Watch Arab reaction to the incident »
Dhirgham al-Zaidi said Iraqi journalists told him after the incident that U.S. security stopped Iraqis from hitting the reporter.
The journalist was hustled out of the room and arrested. He remains in jail and has been tested for for alcohol and drugs to determine his state of mind, said a government official, who requested anonymity.
The al-Zaidi family plans to retain Egyptian lawyers to defend Muntadhar al-Zaidi. The reporter's brother said the family has not been contacted by the Iraqi government.
Dhirgham al-Zaidi said he is "proud" of his brother whose act, while rash, was a statement of behalf of "millions" of other Iraqis. Dhirgham said the shoe throwing was "Iraq's reaction" to the war and years of U.S. sanctions against Iraq before the conflict began. The reporter was not motivated for personal reasons, or because he has "anything against the American people," he said.
Dhirgham al-Zaidi says his brother started working for al-Baghdadia in 2005 as one of its founding staff members.
Al-Baghdadia is devoting round-the-clock coverage to the incident and calling for the immediate release of the reporter whose co-workers describe him as usually "calm and polite."
In a statement read on the air, Al-Baghdadia said al-Zaidi should be freed "in accordance with democracy and freedom of expression Iraqis were promised by the new era and American authorities."
The channel also ran the reporter's image with what it said were messages of support from viewers in a crawl at the bottom of the screen and called on Arabs, Muslims and Iraqis to support "your brother."
Dhirgham al-Zaidi, who worked with his brother but is now employed by another channel, said his brother was kidnapped in November 2007 as he was heading to work. The kidnappers tied his hands and covered his head, feeding him just two meals in three days. He was released after three days, "in very bad shape," he said.
E-mail to a friend

All About Iraq • George W. Bush