By Shira Medding
CNN
JERUSALEM (CNN) -- Outgoing Israeli Prime Minister Ehud Olmert opened his weekly Cabinet meeting on Sunday with sharp words for Jewish settlers who opened fire on Palestinians last week, saying their actions constituted a "pogrom."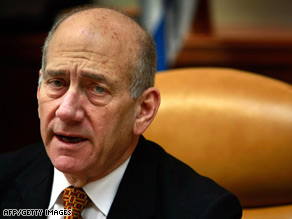 Israeli Prime Minister Ehud Olmert spoke about the "pogrom" during his weekly Cabinet Meeting.
"We are the children of a people whose historic ethos is built on the memory of pogroms," Olmert said. "The sight of Jews firing at innocent Palestinians has no other name than pogrom. Even when Jews do this, it is a pogrom.
"As a Jew, I am ashamed that Jews could do such a thing."
He was addressing the riots last week in which Jewish settlers -- angry over the forced evacuation of a contested house in Hebron -- attacked Palestinians, setting fire to their houses.
In a statement released by his office, Olmert told the Cabinet that he chose the term "pogrom" -- a Yiddish word meaning an organized massacre, usually referring to such attacks against Jews -- "after much thought."
"I formulate these words with the greatest care that I can," the prime minister said.
Israeli police spokesman Micky Rosenfeld said two settlers -- who were captured on video firing near a group of Palestinians -- have turned themselves in and will be remanded before a judge on Sunday.
Don't Miss
Two Palestinians moderately wounded in the shooting are still hospitalized, he said.
Israeli police and military on Thursday forcibly removed a group of settlers from a disputed home in the West Bank city of Hebron. The settlers inside the residence had ignored court orders to vacate the house, which a Palestinian man claims belongs to him.
The situation had led to recent clashes between Jewish settlers and Palestinian residents in Hebron, one of the most contested cities in the West Bank, with a Palestinian section and a Jewish settler enclave.
It is home to about 160,000 Palestinians and 500 Israelis.
E-mail to a friend