BAGHDAD, Iraq (CNN) -- The former Iraqi general known as Chemical Ali has been sentenced to death a second time, the country's official state television reported Tuesday.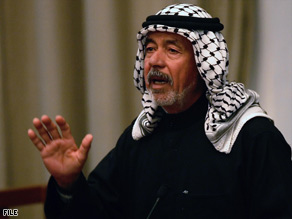 Ali Hassan al-Majeed, known as Chemical Ali, received a second death sentence on Tuesday.
Ali Hassan al-Majeed was sentenced this time for his role in suppressing a 1991 Shiite Muslim uprising against his cousin, former dictator Saddam Hussein.
Al-Majeed already faces the gallows for the Anfal campaign in northern Iraq, which killed at least 100,000 Iraqi Kurds.
The Anfal campaign included a 1988 attack with poisonous gas and chemical agents that killed 5,000 people in the village of Halabja, earning al-Majeed his nickname.
His original death sentence for the Anfal campaign came in June 2007. He and other former members of Hussein's regime are in U.S. custody.
The latest sentence was handed down for al-Majeed's role in the slaughter of thousands of Shiite Muslims during the revolt in southern Iraq that followed the 1991 Persian Gulf War.
Estimates of the Shiite death toll range from 20,000 to 100,000.
Don't Miss
Al-Majeed was sentenced along with 14 other former Iraqi officials for their roles in the 1991 offensive.
Three were acquitted. The rest were convicted and immediately sentenced.
Al-Majeed and Abdul Ghani Abdul Ghafour received the death penalty. Former Republican Guard commander Hussein Rashid Mohammed, who was already sentenced to death for his role in the Anfal campaign, received life in prison.
Sultan Hashem Ahmed is also on death row for his role as military commander of the Anfal campaign. He was given an additional 15-year prison term on Tuesday.
E-mail to a friend

CNN's Jomana Karadsheh contributed to this report.
All About Iraq • Saddam Hussein