From Jomana Karadsheh
CNN
BAGHDAD, Iraq (CNN) -- Bombers struck military and government targets in Iraq Monday, killing at least 19 people in two attacks in Baghdad and 16 more in the northern city of Mosul, authorities said.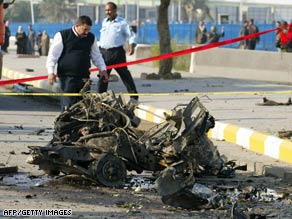 An Iraqi policeman inspects the scene of a car bombing near a police academy in Baghdad on Monday.
The strikes come as Iraqi officials issued figures showing a slight hike in war-related civilian deaths in November. While security has greatly improved in Baghdad and other cities, Monday's assaults reflect the resiliency of Iraq's insurgents.
Monday's violence comes amid discontent among Shiites in some parts of eastern Baghdad over the parliament's passage of the U.S.-Iraqi security pact last week and fears over violence in the runup to the Jan. 31 provincial elections, an event that may aggravate sectarian allegiances.
The U.N. Assistance Mission in Iraq said Sunday it is concerned that "some entities may be tempted to disrupt the elections," but it believes the government is making efforts to bolster security.
An Iraqi Interior Ministry official said a car bombing and suicide vest bombing near a police academy in eastern Baghdad were carried out moments apart, killing at least 16 people and wounding 46 others.
Don't Miss
The suicide bomber detonated his explosives near the academy's entrance and moments later the parked car bomb exploded, the official said. The Interior Ministry official said most of the casualties were police or police recruits. The U.S. military had different figures, saying 15 police were killed and 35 police and civilians were wounded.
In the northern Baghdad neighborhood of Suleikh, a roadside bomb wounded a senior government official and killed three other people, the official said.
The attack took place near the home of retired Maj. Gen. Mudher al-Mawla, lightly wounding al-Mawla and killing two of his bodyguards and his driver, the official said. Another 10 people were wounded, the official said.
Al-Mawla, a Shiite Muslim, was a senior officer in Saddam Hussein's army and is now a high-ranking member of Iraq's national reconciliation committee. He is in charge of overseeing the transition of the U.S.-sponsored Awakening Councils to the Iraqi government.
The councils, also known as Sons of Iraq, are mainly made up of former Sunni insurgents who turned against al Qaeda in Iraq. They are considered one of the main factors that helped reduce violence in the country over the past two years.
Since October 1, the U.S. military has been handing over control of these groups to the predominantly Shiite government.
In the northern Iraq city of Mosul, part of a diverse region where troops have been taking on al Qaeda in Iraq, a suicide car bombing targeting a joint U.S. military and Iraqi police patrol killed 16 people and wounded 37 more. The incident occurred in the city's southern region.
Also in Mosul, the bodies of a middle school headmaster and teacher kidnapped earlier on Monday were found, an Interior Ministry official said.
An Interior Ministry official said civilian deaths from war-related causes rose slightly in November, but the numbers remain low compared to the same month last year.
Citing figures from the Health, Defense, and Interior ministries, the official said 297 civilians were killed, a slight increase from 278 in October. Last November, during more violent conditions, 538 Iraqi civilians were killed.
E-mail to a friend