HEBRON, West Bank (CNN) -- Inflammatory graffiti was found on Muslim gravestones and a mosque in the divided West Bank town of Hebron as a group of Jewish settlers clashed with Palestinians, Israeli military sources said Thursday.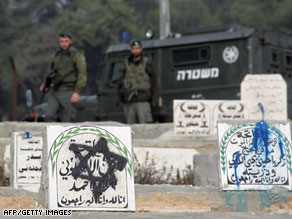 Israeli soldiers guard a Muslim cemetery Thursday in Hebron after Jewish settlers vandalized gravestones.
Army Radio reported that Jewish settlers scrawled "Mohammed is a pig" on the mosque, which is near a disputed building in Hebron. Israel Defense Forces cleaned the graffiti off on Thursday, the radio reported.
Pigs are reviled by many Muslims as unclean, and the Quran prohibits them from eating pork. Jews also are prohibited from eating pork.
A day earlier, Jewish settlers living inside the disputed building ignored a court-ordered deadline to evacuate, setting themselves up for a possible confrontation with the Israeli military.
The settlers moved into the building last year, claiming they bought it from a Palestinian man who says no deal was made. The court must still settle that issue. Nine families made up of 70 people live at the property.
The court ruled Sunday that the settlers would be evicted within 30 days if they did not leave voluntarily.
Settlers and Palestinians clashed overnight, with IDF and Israeli police forces trying to prevent violence and disperse the participants, Israeli military sources said.
One Israeli soldier was slightly injured by a chemical substance that Israeli settlers threw at him, the sources said. Some settlers also threw rocks at Israeli soldiers who were trying to contain the clashes, Army Radio reported.
A number of IDF and Israeli police cars were damaged.
Don't Miss
Hebron is one of the most contested cities in the West Bank. It is home to approximately 160,000 Palestinians and 500 Israelis.
It is also the location of the Cave of the Patriarch, a religious site holy to Jews, Christians and Muslims, and has been the site of high profile violence between Palestinians and Israelis.
Settlers in the area were preparing ahead of the Wednesday deadline. More than 1,000 convened an emergency meeting in a neighboring town on Tuesday to discuss the possible eviction.
"The state of Israel has become the enemy of the people and the land of Israel," settler Rabbi Shalom Dov Wolpe said at the meeting, according to Israeli newspaper Haaretz.
Nissim Zeev, an Israeli member of the Knesset from the ultra-Orthodox Shas Party, opened an office in the four-story building in a sign of solidarity. He called on other Knesset members to join him in Hebron.
Settlers presented Zeev with evidence they have gathered relating to the legality of the purchase. This includes a videotape they say shows the homeowner counting the cash the settlers paid him when they purchased the property.
E-mail to a friend

CNN's Mike Schwartz contributed to this report.
All About Hebron • Israeli Defense Forces • West Bank • Palestinian Politics