BAGHDAD, Iraq (CNN) -- An Iraqi slain last week in a raid has been positively identified as a militant suspected in the 2004 kidnapping of a U.S. soldier and the June killings of three U.S. Marines, the U.S. military said Thursday.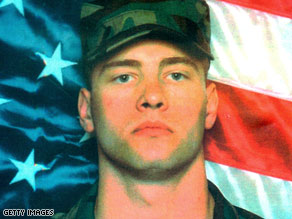 An undated file photograph of Army Staff Sgt. Matt Maupin, who was kidnapped in 2004 and later slain.
The U.S. military says Hajji Hammadi, a top-ranking al Qaeda in Iraq militant, was killed in a November 11 operation in Baghdad.
The military said Hammadi's terrorist activities included the abduction and slaying of U.S. Army Staff Sgt. Matt Maupin. The soldier's remains were found in Iraq earlier this year, nearly four years after he was captured when his fuel convoy was attacked near Baghdad on April 9, 2004.
The military maintains Hammadi also was the mastermind of a June 26, 2008, attack on coalition forces and Iraqi government officials at a sheikhs' meeting in the Anbar province town of Karma.
An attacker dressed in a police uniform detonated a suicide vest and killed "three U.S. Marines, two interpreters and more than 20 Iraqis, including the mayor of Karma and several other sheikhs. Hammadi escorted the suicide bomber to the location and videotaped the attack."
"The removal of Hajji Hammadi from the AQI network is yet another significant blow to the terrorist organization," said Brig. Gen. David Perkins, spokesman for Multi-National Forces-Iraq. "His death and the detention of his associates is bringing the people of Iraq one step closer to a safer, more peaceful Iraq."
The military said Hammadi had been affiliated with al Qaeda in Iraq since it began and became al Qaeda in Iraq emir of the Karma and Abu Ghraib areas west of Baghdad in 2004.
He is thought to have had connections with the slain al Qaeda in Iraq founder Abu Musab al-Zarqawi and the group's current leaders.
Along with the Maupin and Karma incidents, Hammadi planned and conducted many attacks against coalition forces, Iraqi police, Iraqi government officials and citizens, the military said.
Among those attacks have been assassinations of members of Sons of Iraq, the U.S.-backed Iraqis assisting the government in security tasks. He also led fighters against coalition troops in the second battle of Falluja four years ago.
Coalition troops on November 11 were "led to a residence in Baghdad's Mansour neighborhood where Hammadi was believed to be located."
Troops took fire as they entered the building and then returned fire, killing Hammadi and another "armed terrorist."
"Soldiers then provided life-saving medical treatment to one of the armed suspects injured during the fight. He and four other suspects believed to be associates of Hammadi were detained during the operation," the military said.
Hammadi was also known as Hammadi Awdah Abd Farhan and Abd-al-Salam Ahmad Abdallah al-Janabi.
Meanwhile, bickering lawmakers Thursday again failed to carry out the second reading of the proposed U.S.-Iraq security pact.
Parliament plans to convene Saturday for the second reading of the measure -- which has been delayed the last two days because of protests from the pact's opponents.
The second reading of the proposed security agreement began before parliament on Wednesday. Lawmakers from anti-American Shiite cleric Muqtada al-Sadr's bloc interrupted the session, Kurdish parliament member Mahmoud Othman said.
Sadrist lawmakers continued their objections Thursday, with members banging on tables and shouting at each other.
Sunni Arab politicians also have expressed concerns about the measure. At the Thursday session, Parliament speaker Mahmoud al-Mashhadani read a letter from Sunni parliament members saying they will go along with the agreement if their demands are met for releasing those Sunni detainees who have yet to be convicted of crimes.
The security agreement, reached after months of negotiations between Iraqi and U.S. representatives, sets June 30, 2009, as the deadline for U.S. combat troops to withdraw from all Iraqi cities and towns. The date for all U.S. troops to leave Iraq would be December 31, 2011.
U.S. government contractors in Iraq also will no longer have criminal and civil immunity under the plan.
Senior officials from the Pentagon and State Department said they've warned contractors that, starting January 1, 2009, they will be subject to Iraqi criminal and civil law.
Currently, U.S. contractors are exempt from Iraqi law. But a section of the Status of Forces Agreement pertaining to Pentagon contractors says "primary jurisdiction falls to the government of Iraq," the senior Defense department official said.
The Pentagon employs about 163 contractors in Iraq, plus several thousand more "private security detail" contractors who protect U.S. diplomats and Iraqi officials. The State Department employs about 5,500 contractors in the country.
The status of contractors became an explosive issue after a deadly shooting involving guards from the military contractor Blackwater. Iraqi authorities accused the guards of killing 17 people and wounding nearly 30. But Blackwater has repeatedly said its guards were acting "in response to a hostile threat."
Prime Minister Nuri al-Maliki's government has approved the pact and sent it to the Council of Representatives for ratification. Lawmakers hoped to debate the bill after the second reading and then vote on the measure Monday, before a scheduled two-week recess.
In a rare move, Thursday's session was broadcast live on Iraqi state television. Parliamentary proceedings are usually aired on a delayed feed and censored.
The pact would replace a U.N. resolution, which is set to expire at the end of the year, that authorizes the presence of U.S. and allied troops in Iraq.
E-mail to a friend

CNN's Jomana Karadsheh and Yousif Bassil contributed to this report.
All About Iraq War • Blackwater Worldwide • U.S. Department of State • Al Qaeda in Iraq