(CNN) -- Godfather of Egyptology
He is the modern pharaoh of Egyptology: Zahi Hawas, head of the Egyptian Supreme Council of Antiquities, is a tireless media-savvy promoter of all things ancient Egyptian.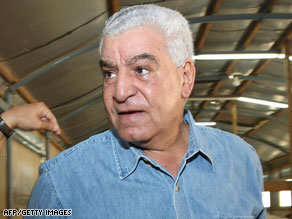 Zahi Hawas, head of the Egyptian Supreme Council of Antiquities, is the godfather of Egyptology.
"The New York Times" once described him as "part Indiana Jones, part P. T. Barnum," and in 2006, "Time Magazine" named Hawas one of the "100 people who shape our world."
Ben Wedeman has covered Hawas' exploits for more than ten years, and profiles this larger-than-life, and sometimes controversial character in the arcane world of Egyptology.
Iraq's Urban Street Dancers
It's a combination of hip-hop and funk -- improvised street dancing that pitches two teams against each other.
The unlikely group was started by 21-year-old Amin, who started dancing at 14 after his friend, Ali, returned from Brazil and taught him the moves. Ali was later killed and Amin carried on in his friend's memory as the dance group expanded to a dozen members.
But the risk to the their lives is very real. The group has been threatened by insurgents and Amin was detained 6 times by Iraqi security forces.
"Salt of this sea"
Written and directed by Palestinian-American filmmaker Annemarie Jacir, "Salt of this Sea" is a fictional film exploring themes of identity, boundaries, anger and disillusionment through the eyes of two young Palestinian refugees -- one from Brooklyn, one from a refugee camp near Ramallah.
The plot's twists and turns include a bank robbery, a road trip and, of course, a love story. The director tells us about the challenges of filming in 80 locations around the West Bank and Israel, often without permission from the Israeli authorities.
E-mail to a friend