From Jomana Karadsheh
CNN
BAGHDAD, Iraq (CNN) -- Iraq's parliament on Wednesday failed to carry out the second reading of the proposed U.S.-Iraq security agreement, a lawmaker told CNN.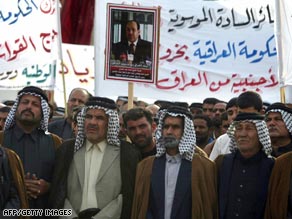 Shiite Muslim tribal leaders march Wednesday in Karbala in support of the U.S.-Iraq security agreement.
The parliamentary session was adjourned until Thursday after lawmakers from the Sadrist bloc interrupted the session, Kurdish parliament member Mahmoud Othman told CNN.
Othman said Sadrist lawmakers walked up to the podium when the second reading began and started protesting. Security personnel had to remove the legislators and then the session was adjourned.
The dissenting lawmakers -- who represent Shiite cleric Muqtada al-Sadr -- were incensed that parliament declined to pursue a second reading of another bill on how parliament should vote on such a pact.
Lawmakers hoped to debate the bill after the second reading and then vote on the measure Monday. The parliament's bylaws indicate that a delay would require that a vote be taken after Monday. The parliament had planned to recess its session for two weeks starting on Tuesday.
The security agreement, reached after months of negotiations between Iraqi and U.S. representatives, sets June 30, 2009, as the deadline for U.S. combat troops to withdraw from all Iraqi cities and towns. The date for all U.S. troops to leave Iraq would be December 31, 2011.
Don't Miss
Also on Wednesday, Iraq's government spokesman said Iraq, Turkey and the United States have formed a trilateral committee aimed at stopping Kurdish militants staging cross-border attacks against Turkey from northern Iraq.
Representatives of the three countries held discussions Wednesday on how to stop the Kurdistan Workers' Party, or PKK, from launching the attacks.
Ali al-Dabbagh said the countries are following up on "the threat the Kurdistan Workers' Party poses to the security and stability of Turkey and Iraq and creating deterrent measures to stop any possible activities by this organization inside Iraqi territory or within the Iraqi-Turkish border areas."
Turkish troops and PKK militants have been fighting for years in southeastern Turkey. Turkey is concerned that Iraq hasn't been doing enough to confront the same militant group operating against Turkey from Iraq's Kurdish region.
Over the last year, Turkey has launched cross-border airstrikes and shelled PKK targets in northern Iraq. Its troops also embarked on a ground offensive in Iraq earlier this year.
E-mail to a friend

All About Iraq