BAGHDAD, Iraq (CNN) -- A group of irate lawmakers decried the proposed U.S.-Iraqi security agreement Monday when it reached the Iraqi parliament floor.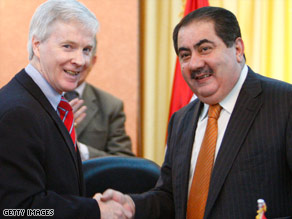 U.S. Ambassador Ryan Crocker, left, and Iraqi Foreign Minister Hoshyar Zebari attend Monday's signing event.
Mahmoud Othman, a Kurdish lawmaker, said Sadrists and some Sunni Arabs who are members of the 275-member Council of Representatives shouted and banged on tables in an unsuccessful attempt to delay the first reading of the measure.
The agreement, forged after months of talks, sets June 30, 2009, as the deadline for U.S. combat troops to withdraw from all Iraqi cities and towns, Iraqi government spokesman Ali al-Dabbagh has said.
The date for all troops to leave Iraq would be December 31, 2011, he said, adding that these dates are "set and fixed" and are "not subject to the circumstances on the ground."
Senior U.S. officials told CNN on Monday that the United States agreed to the timeline as a show of faith because opponents of the agreement -- Iran for example -- interpreted it as an agreement for a permanent U.S. presence in Iraq.
Though the agreement is set to end on the withdrawal date for all troops, there is a provision that either side can ask for an extension or renegotiate a new agreement, the officials said.
The Cabinet approved the deal Sunday, and it went to parliament Monday. Approval by parliament is necessary for the agreement to take force.
Don't Miss
The first readings of the security deal and another U.S.-Iraqi bilateral pact -- the strategic framework agreement -- were held in parliament Monday.
Othman said a second reading is expected Wednesday. The measure will be discussed over a four-day period, he said, and a vote is expected next Monday.
Othman said lawmakers noisily protested the first reading of the security agreement, which was just the recitation of a cover letter describing the bill.
He said some members of parliament believe it is unconstitutional for the security agreement to go through the parliamentary process before a bill is passed on how to vote for it.
The Sadrists -- who say the constitution does not spell out a process for voting on international agreements -- are backing a draft law calling for a two-thirds majority for such agreements to pass. Otherwise, they say, parliament would wrongly be using a Saddam Hussein-era law to pass the security agreement.
That draft law on voting also received a first reading Monday.
Othman said the Kurds appear to be unified for the bill, but Sunni Arabs and Shiites are divided.
The Sadrists, who support anti-American Shiite cleric Muqtada al-Sadr, reiterated their opposition to the security agreement at a news conference. Adnan al-Dulaimi, a lawmaker whose party is part of the biggest Sunni Arab bloc in parliament, said his backers are for an agreement in principle, but they have "major reservations" about the current agreement. They are concerned about provisions governing the release of detainees and foreign interference from neighboring countries.
At a signing ceremony for the deal Monday morning with U.S. Ambassador to Iraq Ryan Crocker, Iraqi Foreign Minister Hoshyar Zebari called it a historic day for Iraqi-U.S. relations. He thanked negotiators on both sides who spent months on the terms and language of the agreement.

Watch Zebari talk about work parliament must do »
Crocker also thanked both negotiating teams for what he described as "complicated and tough negotiations" and said Iraqis can be proud of what negotiators accomplished. Crocker also thanked the U.S. team for its "creativity, perseverance and commitment."
The deal faces a critical time in the parliament over the next week, with several readings and a discussion before the final vote.
Monday is the earliest day the vote could take place, and Zebari has said the parliament will reach a decision before it takes a 15-day recess November 25. He told CNN on Sunday that much work is ahead of lawmakers in the next seven to 10 days, a stretch he characterized as a critical time.
Industry Minister Fawzi Hariri has said there is "great optimism" that lawmakers will approve it. But it faces several hurdles.
Many Iraqi officials have said they will oppose any deal that hints of compromising the country's sovereignty.
For example, Grand Ayatollah Ali al-Sistani -- the influential Shiite Muslim cleric based in Najaf -- said in a statement posted on his official Web site last week that he will "forbid any stance that targets the sovereignty of Iraq no matter how small it is."
And senior U.S. officials said Iran has been doing and will do everything it can to sabotage the agreement.
In late October, Iraqi officials submitted several amendments to the draft plan to U.S. negotiators in Baghdad. Zebari said at the time that the proposed changes called for a fixed timetable for U.S. troop withdrawals; a specific number of sites and locations that would be used by the U.S. military; and Iraqi jurisdiction over U.S. forces who commit certain crimes in Iraq.
Al-Dabbagh said that in addition to the Cabinet approving the agreement for the withdrawal of U.S. troops and regulation of their activities in Iraq, Cabinet members also approved a "draft (strategic) framework" agreement between the United States and Iraq.
That agreement, which he said also will be forwarded to parliament for approval, lays out principles of cooperation and friendship in a number of fields, including political, diplomatic, economic, and health.
Other developments
• At least 17 civilians were wounded Monday when a parked car exploded near a market in southern Iraq, an Interior Ministry official said. The incident occurred in Amara, the provincial capital of the predominantly Shiite Maysan province. Amara is the site of one of Prime Minister Nuri al-Maliki's military offensives against militants this year.
• The U.S. military said coalition troops over the last 24 hours launched raids in northern Iraq targeting al Qaeda in Iraq. A wanted man was captured and four people were detained in Kirkuk, and a wanted man was seized and another person was detained in Diyala province.
E-mail to a friend

CNN's Jomana Karadsheh and Arwa Damon contributed to this report.