From Hosam Ahmed
CNN
CAIRO, Egypt (CNN) -- An Egyptian business tycoon and a former police officer went on trial Saturday in the killing of rising Lebanese pop singer Suzanne Tamim.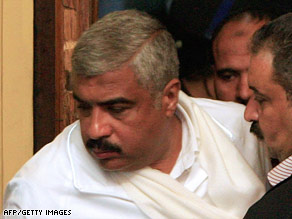 Hisham Talaat Moustafa arrives in court Saturday in Cairo, Egypt.
The singer was found slain in her United Arab Emirates apartment in July. She had been stabbed and her throat slit.
Prosecutors allege that real estate mogul Hisham Talaat Moustafa, also a parliament member for the ruling National Democratic Party, paid former police officer Muhsen el Sukkari $2 million to kill Tamim. Both have denied the charges.
Security was tight Saturday, and reporters, relatives and friends lined up as early as 5 a.m. -- four hours before the hearing began -- to ensure a seat in the courtroom.
The judge listed and displayed evidence found by police at the crime scene in Dubai, United Arab Emirates: a T-shirt, a pocket-size knife, blood and a pair of pants. Moustafa and el Sukkari claim that the evidence could have been fabricated or tampered with by UAE authorities and should not be used against them.
The judge also listened to one of 13 witnesses before adjourning. More witnesses are scheduled to testify Sunday. The trial is expected to last six to seven months.
Moustafa's lawyer has told CNN that his client loved the singer but could not take Tamim as a second wife because his family objected. Polygamy is legal in Egypt, and it not unusual for men -- such as Moustafa, a married father of three -- to take additional wives.
Prosecutors have said Tamim's death was a "means of taking revenge" but have not elaborated.
Although Tamim was killed in the United Arab Emirates, the Egyptian judiciary is trying the case in Cairo because Egyptian law does not allow its citizens to be extradited for trials in other countries.
The case, with its high-profile victim and defendant, has captivated Egypt and the region.
After his arrest in September, Egyptian authorities indicted Moustafa, stripped him of his parliamentary immunity and jailed him pending trial. He also resigned as chairman of Talaat Moustafa Group, a conglomerate with construction and real estate arms that was founded by his father, Talaat Moustafa. Moustafa's brother, Tarek Talaat Moustafa, now heads up the company.
E-mail to a friend

All About United Arab Emirates • Egypt