From Paula Hancocks
CNN
JERUSALEM (CNN) -- Secular high-tech investor Nir Barkat was ahead of ultra-Orthodox contender Rabbi Meir Porush in Tuesday's election for Jerusalem mayor, according to exit polls.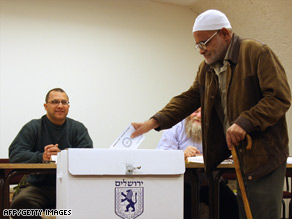 A Palestinian resident of Jerusalem casts his ballot in that city's mayoral election Tuesday.
By the time polling stations closed at 10 p.m. (3 p.m. ET), exit polls showed Barkat with 50 percent of the vote and Porush with 42 percent.
Results were expected Tuesday night. A second round of voting would be required if no one wins at least 40 percent.
Russian-Israeli billionaire Arkady Gaydamak and left-wing candidate Dan Biron were also running for the office, which is now held by ultra-Orthodox Mayor Uri Lupolianski.
The Election Commission estimated voter turnout at close to 40 percent for a race that some observers said may decide whether Jerusalem will be a secular or religious city.
During his campaign, Porush tried to calm fears that Jerusalem is becoming an ultra-Orthodox community.
"I want to assure all the residents of Jerusalem. I am a haredi [ultra-Orthodox Jew], but I don't have horns, and I haven't come to poke anyone. My slogan is that Jerusalem will love Porush, and I will prove this true," he told CNN.
He had publicly apologized for a previous comment that "in another 10 years there won't be a single secular mayor anywhere except in some rundown village."
Barkat, who was leading in pre-election polls, focused his campaign on the national religious camp. Some secular voters have criticized him for being too right-wing, but Barkat rejects those labels.
"The thinking must not be sectorial in Jerusalem. The thinking must be of the whole and thinking of others and being fair and honest with each other -- that is the solution for Jerusalem," he said.
Polling booths in ultra-Orthodox neighborhoods were packed by midday Tuesday. Porush supporters drove many voters to the polls in buses, taxis and even ambulances. iReport.com: See photos of the election scene in Jerusalem
Officials with walkie-talkies controlled the proceedings with military precision.
Large crowds also waited to vote in the more secular areas of Jerusalem, with election leaflets littering the ground.
Both leading candidates favor keeping Israeli control of the entire city of Jerusalem, and continuing to build Jewish settlements in Arab East Jerusalem, which Palestinians want as the capital of a future state.
The main concern for the winner of the election will be the economic decline of Jerusalem. It is the poorest of Israel's three largest cities, with about a third of its 730,000 residents living below the poverty line, according to government figures.
E-mail to a friend

All About Jerusalem • Israel • Palestinian Politics