JERUSALEM (CNN) -- U.S. President-elect Barack Obama has "a tremendous opportunity" to help negotiate an Israeli-Palestinian peace plan that could help "empower the forces of ... moderation in the Islamic world," former British Prime Minister Tony Blair said Sunday.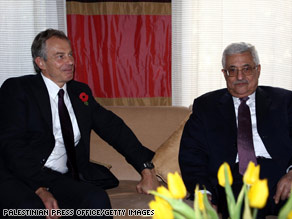 Ex.-U.K. Prime Minister Tony Blair meets with Palestinian Authority President Mahmoud Abbas in Egypt on Sunday.
Blair, envoy for the Mideast Quartet -- four international entities seeking peace between Israel and the Palestinians -- said Obama can capitalize on a recent international consensus on how to achieve peace in the Middle East.
"There is an agreed way forward. ... There are measures now in place to build the institutions of Palestinian statehood at the same time as giving security to the Israelis," Blair told CNN.
"Right from very outset of the new [Obama] administration, we [should] treat this issue with the seriousness and the priority it needs and deserves," Blair said.
Blair spoke from Jerusalem hours after he and other representatives from the Quartet -- the United Nations, the United States, the European Union and Russia -- met in Sharm el-Sheikh, Egypt, to assess the progress of Israeli-Palestinian peace talks.
Though no Israeli-Palestinian deal has been reached since last year's Annapolis, Maryland, summit -- during which both sides agreed to work toward a peace deal -- Blair stressed that "we've got a far clearer sense of how this thing can and should be done."
"I think there's a great deal that a new President Obama can do. There's a tremendous opportunity I think to move this forward," Blair said. "I think the big difference between now and, say, 15 months ago is that within the international community ... there is a clear agreement as to how we resolve this, with the proper plans in place to do it.
"Now, we then have to go and implement those plans, and that's a tough challenge."
After Sunday's meeting in Egypt, the Quartet issued a statement saying Israel and the Palestinian Authority have made "substantial" progress. Israeli Foreign Minister Tzipi Livni and Palestinian Authority President Mahmoud Abbas had briefed the Quartet on the progress of the peace talks.
U.N. Secretary General Ban Ki-moon, who read the statement to reporters, reiterated the Quartet's call for Israel to halt Jewish settlement activity in Palestinian territory and for the Palestinian Authority to dismantle terrorist infrastructure.
It said the two parties should continue bilateral negotiations without international intervention. The secretary general then said the spring of 2009 could be an appropriate time for an international meeting in Moscow, Russia.
During the 2007 Annapolis summit, Israeli and Palestinian officials set the end of 2008 as a goal for completing a peace treaty. But last week the White House said an Israeli-Palestinian peace deal is unlikely before a new U.S. president takes office.
Speaking in Israel on Thursday, U.S. Secretary of State Condoleezza Rice said one factor impeding a deal was recent political change in Israel, which she noted is "in the midst of elections."
Israeli Prime Minister Ehud Olmert resigned in September amid allegations of corruption. Livni, the foreign minister and Kadima Party leader, abandoned efforts to form a new coalition government late last month and is seeking to hold early general elections, which a Livni spokesman has said could be held in February.
Olmert will lead as Israel's interim prime minister until a successor assumes power either by forming a coalition in the current Knesset or through general elections. However, it is unclear whether he will be able to strike a deal with the Palestinians before Israel forms its new government.
Rice last week stressed that "a firm foundation" has been established by the outgoing Bush administration for a future agreement.
Blair said getting a peace deal implemented would have broader consequences in the Middle East.
"If we were able to make progress in the Israeli-Palestinian issue, that would also hugely empower and help the forces of modernization and moderation within Islamic world who really want to put the dispute behind it and want to coexist peacefully with the Western world," he said.
E-mail to a friend

All About Israel • Middle East Conflict • Tony Blair