From Nic Robertson
CNN Senior International Correpondent
LONDON, England (CNN) -- The U.S. forces who killed a top militant in Syria last week intended to capture him, but he and his bodyguards were killed in a gunbattle, a Saudi source with access to detailed intelligence told CNN.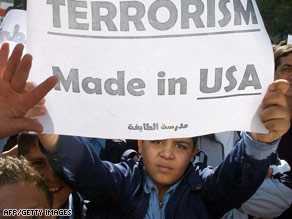 Palestinian refugee schoolboys in Damascus protest the U.S. attack in Syria, which called the strike barbaric.
U.S. officials last week confirmed that an American airstrike from Iraq into Syria killed Abu Ghadiya, described as a kingpin in al Qaeda's smuggling of foreign fighters into Iraq.
The officials -- who did not want to be named because they were not authorized to speak to the media -- also said members of his network were killed as well. The U.S. military has not officially confirmed the October 26 strike in the town of Abu Kamal.
The Saudi source said U.S. forces picked up Abu Ghadiya's presence at the Syrian location in the morning of October 26 and acted quickly against him.
Abu Ghadiya's name emerged many times during Saudi interrogations of al Qaeda suspects, the source said, noting that a profile emerged of the militant as an important part of the logistical chain in al Qaeda's network.
He had been an effective and persuasive recruiter of Arab fighters intent on attacking U.S. forces in Iraq, and had been described as a Baathist, a member of the political movement that ran Iraq during the Saddam Hussein era, the source said.
The source said Abu Ghadiya used Baathist money to smuggle fighters, and pay off Syrian generals to ignore the cross-border activities. The Saudi source said plenty of Baathist money is stashed away, hidden before the 2003 invasion.
Thousands of people demonstrated last week in the capital of Syria to protest the U.S. airstrike -- that Damascus says killed eight civilians, according to reports from the country.
Syrian Foreign Minister Walid al-Mouallem last week condemned the strike as "terrorist aggression," said civilians died in the incident, and called the claim that Americans were targeting militants a lie.
Iraq's government also denounced the attack, which was launched from its territory.
Syria has said it has tried to secure the sprawling desert border. But it immediately withdrew its border guards from the region after the strike, leaving border posts empty and forcing Iraq to secure the areas where foreign fighters crossed the border.
Abu Ghadiya's body, initially taken away by U.S. Special Forces operatives for identification, has been returned to the Syrians, the source said.
E-mail to a friend

All About Al Qaeda • Syria • Walid Moallem