(CNN) -- Syria said Tuesday that it has formally complained to the United Nations about a U.S. strike that a U.S. military official said targeted a smuggler responsible for funneling weapons into Iraq.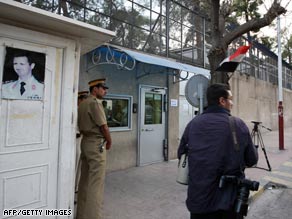 Guards stand outside the American school in Damascus on Tuesday. Syria says it will close the school.
Syria, which said Sunday's strike in that country killed eight civilians and was an "act of aggression," sent a protest letter to U.N. Secretary-General Ban Ki-moon and the current head of the U.N. Security Council, according to Syria's official news agency, SANA.
Farhan Haq, a spokesman for Ban's office, confirmed that the secretary-general had received the complaint.
"It will be studied, and it will be circulated to members of the Security Council," Haq said.
A U.S. official -- who did not want to be identified but has access to U.S. intelligence -- said U.S. gunships that fired near the Syria-Iraq border targeted Abu Ghadiya, an Iraqi suspected of working with al Qaeda to smuggle money, weapons and foreign fighters into Iraq.
Abu Ghadiya, "the top facilitator of al Qaeda foreign fighters into Iraq," was killed in the strike, according to a top U.S. military official in Iraq who did not want to be named for security reasons.
But in its letter to the United Nations, Syria maintained that four U.S. helicopters "violated Syrian airspace" and struck a civilian building before returning to Iraq, according to SANA. Syria has said the attack was about 8 kilometers (5 miles) into the country.

Watch how the strike has increased tensions between Syria and the U.S. »
Syria asked the international body "to assume responsibilities to prevent [the] reoccurrence of such [a] dangerous violation" and hold the "aggressor" responsible for the deaths of "innocent" Syrian civilians "to keep security and stability in the Middle East," SANA reported.
Syria identified the eight killed as Daoud Mohammad al-Abdullah and his four sons; Ahmad Khalefa; and Ali Abbas and his wife, according to SANA.
Another unnamed U.S. official in Washington disputed that any women or children were killed.
The official said the operation, carried out by U.S. Special Operations ground forces, was designed to minimize the risk of unintended civilian casualties. He said that other members of Abu Ghadiya's network were killed in the raid and that no one was captured alive.
Syrian Foreign Minister Walid al-Mouallem warned Monday that any further acts of aggression will not be tolerated.
"If they do it again, we will defend our territories," he said.
In addition to its complaint to the United Nations, Syria announced Tuesday that it will close the U.S. cultural center and the American school in Damascus in response to the strike, according to SANA.
The incident has raised tensions between Iraq and Syria.
On Monday, Ali al-Dabbagh, the spokesman for the government in Baghdad, said, "we want good relations, but we must remember that 13 Iraqi policemen ... were killed in an Iraqi bordering village near that region by a terrorist group that was operating from the Syrian territories."
Through state-run media, the Syrian government denounced that statement, saying the cabinet was astonished by it "and his unacceptable and irresponsible justification for this heinous aggression, which was launched from the Iraqi territories against a neighboring Arab country."
Damascus also announced that it was postponing a meeting with Iraqi officials in Baghdad next month.
On Tuesday, al-Dabbagh issued a statement saying the government in Baghdad condemned the attack and called on U.S. forces "not to repeat such acts."
"The Iraqi government rejects the U.S. planes striking sites inside Syrian territories as part of the policy of the Iraqi government and the permanent constitution, which does not allow the Iraqi territories to be a launching pad or a passage for attack on the neighboring countries," al-Dabbagh said.
He said the Iraqi government is investigating the incident.
Iraq's parliament also issued a statement Tuesday expressing "great regret" over the strike, which it said threatens to "mar" Iraq's relationship with Syria.
The strike comes as Washington and Baghdad are negotiating a status-of-forces agreement that would set the terms for U.S. troops in Iraq after the U.N. mandate on their presence expires at the end of this year.
Iraq announced Tuesday that it has made changes to a draft agreement and will submit them to the United States.
E-mail to a friend