By Phil Black
CNN
BAGHDAD, Iraq (CNN) -- The man sits gently rocking on the bed, one hand clutching a cloth, the other hiding his face from view.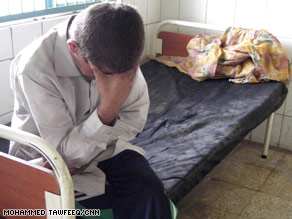 Few patients ever leave Al Rashad hospital, doctors say.
He doesn't look up and he doesn't want to talk. His body language screams despair.
Across the tiled room, other men are sitting on thin, filthy mattresses atop metal bed frames.
"Our life is miserable. It is dirty. The food is bad. Life is very bad here," says one of them, Abu Ismaeil. "I'm always hungry. I do not want to lie. Shame on me if I lie."
Yet, in Iraq, these are some of the luckier ones, and even Abu Ismaeil agrees. Without the hospital. "I would commit suicide," he said.
Their clothes and surroundings may be drab, but these mentally ill people are fortunate to be in Al Rashad Hospital, Iraq's only treatment facility for severe psychiatric disorders.

Watch patients cope with stark conditions »
More than 1,000 patients, most of them suffering chronic schizophrenia, call the bleak buildings home.
Through their individual stories, there is one overwhelmingly common theme -- abandonment. In a country where life is difficult for the healthy, the mentally ill are seen to bring shame and greater hardship to families.
Dr. Raghad Issa Sarsam, a psychiatrist, says most of his patients have been rejected by their loved ones. Without the hospital, they would be wandering outside, begging, he said.
Don't Miss
"They have no place else to stay but here," he said. "Otherwise, they would be on the streets, and I think that would be inhuman."
But once in the hospital, few ever go home again.
Former English teacher Um Ibrahim has not seen her husband and children in three years, since being admitted.
"I want to go to my family," she said in the women's ward.
But they don't want her, and that is common among the patients, Sarsam said.
"They are already rejected by their families because of their chronic illness. They don't want them anymore, even if they become a bit better."
Doctors at Al Rashad Hospital say the numbers of people needing help will continue to grow because of the nationwide trauma suffered during and since the overthrow of President Saddam Hussein in 2003.
Some hope that Iraq's health minister, Salih al-Hasnawi, himself a psychiatrist, might begin to effect change.
The doctors are right to have some cause for optimism, according to Dr. Mohammed Al-Uzri, an Iraqi-born psychiatrist now based in Leicester, England, who was recently with al-Hasnawi in Baghdad for Iraq's third National Conference on Mental Health that agreed on five themes to make improvements.
"There is so much need, you can make a huge difference without much of a budget. We have huge human resources [in Iraq] and a huge amount of resilience," said Al-Uzri, who chairs a subcommittee on Iraq for Britain's Royal College of Psychiatrists.
Al-Uzri acknowledged the huge challenges that lie ahead for the mental health service and broader health system, which suffered through decades of neglect in the Hussein era and continues to do so amid the war. While he said Iraq did not have to start from scratch, as it had a history of good health care, he agreed that organizing care for the mentally ill remains rare right now.
"Mental health services are providing for a small part of the population. [Most needs] are being met -- or unmet -- by whatever else is available. Families are taking the burden of that."
But there is the will to change things, said Al-Uzri, who was able to meet health workers at this month's conference, which was held for the first time inside Iraq -- itself a visible sign of progress.
And the need for mental health care is likely just to grow and grow, even as Iraq becomes more peaceful, Al-Uzri said.
"We are beginning to see, with the security improving, all kinds of services are needed, " he said.
"A year ago, all people worried about was staying alive and having something to eat. Now, it's becoming more and more involved."
E-mail to a friend

CNN's Rachel Clarke contributed to this report.
All About Iraq • Mental Health