(CNN) -- Hundreds of Palestinian security reinforcements were awaiting orders Saturday as part of a joint Israeli-Palestinian operation in the West Bank town of Hebron, officials said.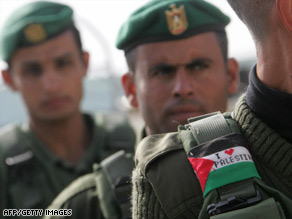 Palestinian security officers assemble Saturday in the West Bank town of Hebron.
The Palestinian militant organization Hamas quickly condemned the move, which is evidence of a growing cooperation between Israel Defense Forces and the Palestinian Authority in the West Bank.
The 550 reinforcements, composed of members of the Palestinian Authority's National and Presidential guards, entered Hebron as part of a security crackdown aimed at establishing order and confiscating illegal weapons, Mayor Khaled al-Aseyli said.
The U.S. State Department's Bureau of Diplomatic Security has trained portions of the Presidential Guard over the last year.
Hamas spokesman Fawzi Barhoum said the guards are targeting Hamas militants in the West Bank. He said Hamas condemns the operation, as well as the coordination between Israeli and Palestinian forces.
Israel is rewarding the Palestinian Authority for its work in detaining militants, Barhoum said.
Though Hamas' power base is anchored in Gaza, there are remnants of the Hamas infrastructure in the West Bank, where the rival Fatah party's Palestinian Authority holds sway.
Don't Miss
On Wednesday, two Israeli brigadier generals met with Palestinian security officials at the IDF West Bank headquarters, according to an IDF statement.
"The two sides discussed the Palestinian request to conduct an extensive enforcement operation against law breakers and rioters in the Hebron area," the statement said. "During the meeting, the plan for the enforcement operation was presented and the process of coordination during the operation was agreed upon."
The statement further said the meeting was held in a "positive atmosphere" and the two sides would convene soon to continue their dialogue on security matters.
Hebron is the third city in the West Bank to be reinforced with Palestinian Authority forces. Forces converged on Jenin and Nablus earlier this year, West Bank security sources said.
In the last two months, the IDF has removed at least 20 of its roadblocks in Hebron. The IDF said it has removed scores of roadblocks and opened major crossings in the West Bank, allowing "the free movement of the Palestinian population."
E-mail to a friend

Journalist Talal Abu Rahme in Gaza City contributed to this report.
All About Hebron • Israeli Defense Forces • West Bank • Hamas