JERUSALEM (CNN) -- Elections to chose a new Israeli government appeared closer Friday when the ultra-Orthodox Shas party rejected a bid to join a coalition government headed by Kadima Party leader Tzipi Livni.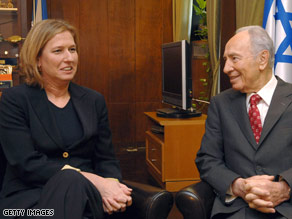 Kadima Party leader Tzipi Livni meets with Israeli President Shimon Peres this week in Jerusalem.
As leader of the ruling party, Livni has been trying to form a coalition government and become prime minister.
Livni now must look to smaller parties, one of whom already has rejected her offer. She said Thursday if she cannot form a government by Sunday, she will ask for elections to be held in 90 days.
To stay in power, Livni will have to find enough coalition members to give her government a minimum of 61 seats in Israel's 120-member parliament, the Knesset. Kadima now has 29 seats.
The developments further imperil President Bush's desire for the Israelis and Palestinians to reach a peace deal by the time he leaves office in January.
Israeli Prime Minister Ehud Olmert continues to lead a caretaker government, but his ability to strike a deal with the Palestinians, while Israel tries to form a new government, was unclear.
Livni has submitted coalition proposals to the Pensioner's and Meretz parties. The Pensioner's Party, with four seats, said the offer was far from acceptable and has pulled out of talks, telling Israel's Haaretz newspaper, "In this situation there is no point in engaging in negotiations -- it's a waste of time."
The left-wing Meretz Party has not yet committed to joining the government but could come to terms, providing its five members.
Don't Miss
Shas, which has been known for its hardball negotiating demands, said it could not reach agreement with Livni on two major points -- increasing welfare payments to the poor and the final status of Jerusalem.
Party spokesman Roy Lahmanovich said the Council of Sages of Shas, headed by Rabbi Ovadia Yosef, had decided in a phone referendum not to have its 12 parliament members join a coalition led by Livni.
Shas negotiators offered a number of alternatives to Livni's proposal that were not accepted by the Kadima leader, according to Lahmanovich.
Livni's adviser, Eyal Arad, said that Kadima's reaction to the Shas decision remains the same as Livni said on Thursday. She will go to Israeli President Shimon Peres on Sunday and either present a new government or call for quick elections.
Arad said Livni will not form a government at any price but said all options are still on the table.
On September 17, Livni narrowly won the Kadima primary to become party leader, beating out her more conservative rival, Shaul Mofaz, the transportation minister and former defense minister.
Livni's 1 percent victory over Mofaz led her political rivals, chief among them Likud opposition leader Benjamin Netanyahu, to declare she did not have a real mandate to govern Israel.
In the intervening weeks, Livni persuaded the Labor Party (and its 19 seats) to remain in a coalition government with her by agreeing to name Labor chief Ehud Barak to the position of second in command as the senior deputy prime minister and giving him a major role in peace negotiations with Syria.
Livni also is believed to be talking with the United Torah Judaism, which has six seats.
If Livni can put together a coalition with Labor, the Pensioners Party, Meretz and United Torah Judaism, she would have 63 seats, two more than the minimum required.
E-mail to a friend

CNN's Michal Zippori contributed to this report.
All About Israel • Tzipi Livni • Ehud Olmert