BAGHDAD, Iraq (CNN) -- A Turkish delegation led by the country's deputy foreign minister met with Iraqi leaders on Tuesday in Baghdad amid an increase in Turkish military strikes on suspected Kurdish rebels in northern Iraq.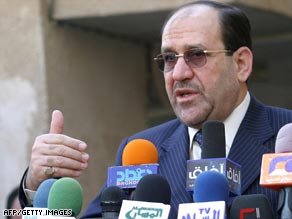 Iraqi Prime Minister Nuri al-Maliki
The delegation, led by Turkish Deputy Foreign Minister Murad Ocalik, met with Iraqi Prime Minister Nuri al-Maliki, President Jalal Talabani -- a Kurd -- and the president of Iraq's Kurdish Regional Government, Massoud Barzani, according to government statements.
The meeting with Iraq's Kurdish leader was rare because Barzani and other Iraqi Kurdish officials, while critical of the Kurdish rebel attacks out of northern Iraq, have denounced the Turkish bombing campaign.
Speaking to Talabani, Ocalik said the meeting with Barzani went well and he intends to visit Irbil, the capital of Iraqi Kurdistan, the president's office said.
During Ocalik's meeting with al-Maliki, the Iraqi leader insisted the two countries strengthen their cooperation in dealing with Kurdistan Workers' Party (PKK) rebels who operate along the Turkey-Iraq border, according to a statement from al-Maliki's office.
Al-Maliki also expressed his rejection of PKK terrorist activities launched from Iraqi soil against Turkey, the statement said.
Ocalik stressed to the Iraqi leader his country's desire to adopt "decisive procedures" to stem the threat posed by PKK, but also noted Turkey's willingness to support the Iraqi government in all fields.
Turkey's military has increased its assaults on suspected PKK targets in response to clashes October 4 that killed at least 15 Turkish troops in the Turkey-Iraq border region.
On Monday, Turkish warplanes and artillery units bombed suspected rebel positions in villages near Amadi in Iraq's Duhuk Province, a Kurdish Regional Government security official said.
The Turkish military says that's the same area where it successfully targeted senior PKK leaders in similar strikes Sunday. There have been no confirmed casualties from either raid.
The central Iraqi government has labeled the PKK a terrorist organization, banning its activities and closing its offices in the country two years ago. The United States and the European Union also consider the PKK a terrorist group.
Though the Iraqi government opposes the PKK, the organization continues to operate in the Qandil Mountains bordering Turkey and Iran in northern Iraq. The separatist faction has been fighting for self-rule in southeastern Turkey.
E-mail to a friend