(CNN) -- Syrian President Bashar al-Assad issued a decree Tuesday ordering the establishment of diplomatic ties with Lebanon, the president's adviser told CNN.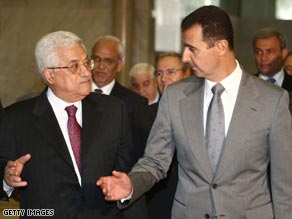 Syrian President Bashar al-Assad, right, during a recent meeting with Palestinian President Mahmoud Abbas.
The re-establishment will be announced by the Syrian and Lebanese foreign ministers on Wednesday in Damascus, foreign ministry sources in Beirut said.
The order calls for the establishment of an embassy in Beirut, al-Assad's adviser Buthaina Shaaban said.
Marking a historic turnaround for the neighboring Arab nations, Syria and Lebanon agreed in August to establish relations, following a rare visit by Lebanese President Michel Suleiman to the Syrian capital -- the first presidential visit in about three years.
Following the February 2005 assassination of former Lebanese Prime Minister Rafik Hariri -- which sparked protests that led to the withdrawal of Syrian troops several months later -- establishing official diplomatic ties has been a key demand of the Lebanese government of Prime Minister Fouad Siniora.
Lebanon and Syria have not had diplomatic relations since the two countries gained independence from France more than 60 years ago. Relations between them have been lopsided since the 1970s, when Syria sent its army into Lebanon and retained control there for nearly 30 years.
E-mail to a friend

-- CNN's Nada Husseini and Octavia Nasr contributed to this report