From Jomana Karadsheh and Mohammed Tawfeeq
CNN

BAGHDAD, Iraq (CNN) -- The United States' insistence that its troops and contractors remain immune from Iraqi law is a key obstacle to reaching a status of forces agreement, the Iraqi foreign minister said Tuesday.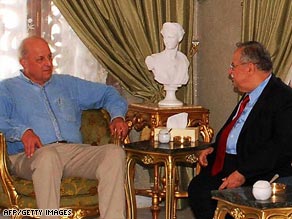 U.S. Deputy Secretary of State John Negroponte, left, meets with Iraqi President Jalal Talabani Saturday.
The status of forces agreement would define and govern U.S. military operations in Iraq, including criminal and civil jurisdictions.
"The sticking points are the immunity issues and there [is] some progress with the new suggestions submitted by the Iraqi government," Iraqi Foreign Minister Hoshyar Zebari said at a joint news conference with U.S. Deputy Secretary of State John Negroponte.
"A number of immunity issues have been resolved in the previous negotiations," Zebari noted. But until the issue is fully resolved, the foreign minister said, "I cannot give you a timetable for this agreement."
The current United Nations mandate which governs how foreign forces operate in Iraq expires at the end of the year.
Negroponte would not elaborate on the ongoing discussions.
"We both agreed that while we're still negotiating, there's no point in getting into a detailed discussion of where we might not yet have come to closure, because what you have people doing is dissecting disagreements without fully understanding the background," he said.
He stressed that while both countries are "pursuing this issue from the point of view of their own national self-interest," Iraq and the United States both have a vested interest in reaching an agreement before the U.N. mandate expires on December 31.
About 30 minutes before Tuesday's news conference, which took place inside Baghdad's heavily fortified Green Zone, two explosions detonated near an entry to that area. The district, which is also known as the International Zone, is where Iraq's government and the U.S. military are based.
An Iraqi Interior Ministry official said two "sticky bombs" attached to two cars detonated in a parking lot near the Iraqi Foreign Ministry at 10:50 a.m., wounding at least five people and damaging at least four civilian vehicles. A column of smoke rose from the parking lot.
The explosives are called "sticky bombs" because they are attached to a vehicle using a magnet or an adhesive, as opposed to car bombs in which the vehicles themselves are packed with explosives.
It was unclear if Negroponte was at the Foreign Ministry compound when the attack happened.
Officials in Washington and Baghdad have been in negotiations for many months to produce a status of forces agreement and a strategic framework agreement, which would cover a wide range of areas of cooperation, from the economy to education.
Speaking last month in a televised address, Iraqi Prime Minister Nuri al-Maliki expressed frustration at the lack of progress in reaching a status of forces agreement because of the immunity issue, which he called "a point of great disagreement."
Baghdad wants the power to arrest and try Americans accused of crimes that are not related to official military operations, plus jurisdiction over troops and contractors who commit "grave mistakes" in the course of their duties.
Al-Maliki said the United States is rejecting both ideas.
He said he also wanted the United States to refrain from military operations in Iraq without the prior approval of the Iraqi government.
The two sides also disagree over how long detainees can be held, al-Maliki said.
Iraq wants the United States to hand over Iraqi detainees within 24 hours, al-Maliki said, while the United States wants Iraqis to hand over American detainees to U.S. forces immediately.
Al-Maliki said each side should be be required to hand over detainees in the same amount of time -- either 24 hours or immediately.
He suggested the end-of-the-year deadline for agreement is critical because it is unlikely a new U.N. mandate could be worked out. Iraq will not accept the mandate in its current form, he said, and the United States will not accept Iraqi amendments.
Negroponte said Tuesday that he expected the negotiations to last until the final hour.
"Both sides have dedicated literally hundreds if not thousands of hours of negotiating time to moving toward that agreement," the deputy secretary said. "I don't think I could add to how Foreign Minister Zebari characterized the progress we are making. He said we are close and we're going to be working on this intensively and against the very deadline we've spoken of."
Other developments:
• Iraqi authorities Tuesday arrested a 38-year-old woman suspected of heading up recruitment of female suicide bombers, the Iraqi Defense Ministry told CNN.
Ibtisam Adwan was arrested in a village east of Baquba, Defense Ministry spokesman Mohammed al-Askari said. Adwan is suspected of being directly involved in the training of Rania Ibrahim, 15, who was caught at a market a few weeks ago with explosives strapped to her waist.
E-mail to a friend

All About Iraq • United Nations