BAGHDAD, Iraq (CNN) -- Two UH-60 Blackhawk helicopters collided Saturday night while landing in northern Baghdad, killing one Iraqi soldier, a U.S. military spokesman said.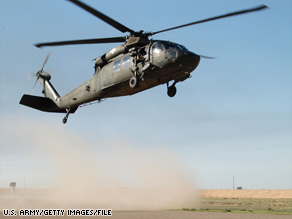 Two UH-60 Blackhawk helicopters, similar to this, crashed Saturday in northern Baghdad, the U.S. military says.
Two U.S. troops and two Iraqi soldiers were injured, said military spokesman Lt. Patrick Evans.
Enemy fire is not suspected, he said.
However, two Interior Ministry officials said that a U.S. helicopter crashed in northeastern Baghdad as a result of clashes between U.S.-backed Iraqi forces and gunmen.
The Iraqi officials said the area was sealed off, so they did not know casualty figures.
One Iraqi official said the gunfight continued late into the night.
U.S. officials said they did not know how many people were onboard.
The crash occurred at Combat Outpost Ford in Adhamiya, a northern Baghdad neighborhood on the eastern bank of the Tigris River, the U.S. spokesman said.
An Iraqi official said the helicopter went down in Talbiya, a stronghold of Shiite militia.
E-mail to a friend

All About Baghdad • U.S. Armed Forces Activities