JERUSALEM (CNN) -- Israeli President Shimon Peres asked Foreign Minister Tzipi Livni, head of the Kadima party, to form a new government Monday.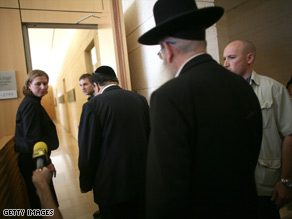 Tzipi Livni, left, meets with members of a religious party Monday as she tries to form a coalition.
The move comes a day after Israeli Prime Minister Ehud Olmert handed in his resignation.
Olmert will remain Israel's interim prime minister until a successor assumes power either by forming a coalition in the current Knesset or through general elections.
Livni, who won by a narrow margin to succeed Olmert as head of the ruling Kadima party last week, has 28 days to unite 61 members of the 120-seat Knesset, Israel's parliament.
She can be granted an extension of 14 days, but if she still fails to achieve a coalition government, Peres can charge another Knesset minister with the task. If the second minister fails, general elections will be held in 90 days.
"I am calling on all the parties to join the government which I will head," Livni said. "I am also calling from here to the chairman of the Likud party, Benjamin Netanyahu, to join a national unity government that will jointly deal with the challenges that he also knows are standing urgently at our doorstep."
Dogged by allegations of corruption, Olmert formally announced his intention to resign Sunday at a Cabinet meeting.
Don't Miss
"This was not an easy or simple decision," Olmert said before the meeting.
Peres said he asked Livni to form a government after requesting recommendations from the Knesset's 13 factions.
He said some factions called for early elections, and some refrained from suggesting a candidate. He did not identify those factions.
There are many possible scenarios that could play out in coming months.
The Labor Party, the largest of Kadima's partners in government, could pull out of the coalition, which could force early elections or force the government to take on new coalition partners.
If elections are called, Ehud Barak, former prime minister and Labor leader, could vie for the top spot, but polls have shown he may not have enough support.
Some observers think Netanyahu of the opposition Likud party is also a potential candidate for the office. Like Barak, he is a former prime minister.
Whoever succeeds Olmert as prime minister will be handed a set of daunting challenges, including determining the fate of Israel's talks with the Palestinians, its indirect talks with Syria and its tough talk on Iran's nuclear aspirations.
If Livni replaces Olmert, she will be the second female prime minister in Israel's history. Golda Meir served from 1969 to 1974.

Watch Livni win Kadima vote »
Livni, 50, who entered the Knesset fewer than 10 years ago, owes her Kadima party victory to her reputation for clean hands in a party that lost Olmert to allegations of graft.
She told reporters last week that she intends "to bring together Kadima factions and to go on this new path together."
Livni is the chief Israeli negotiator with the Palestinian Authority as the two sides work toward a peace deal. She also refuses to be tied to the Bush administration's vision of a peace agreement by the end of this year.
E-mail to a friend

All About Ehud Olmert • Israel • Shimon Peres • Tzipi Livni