BAGHDAD, Iraq (CNN) -- Iraqi Prime Minister Nuri al-Maliki on Sunday ordered security forces to "find the perpetrators" who abducted and killed four Iraqi journalists in the northern city of Mosul.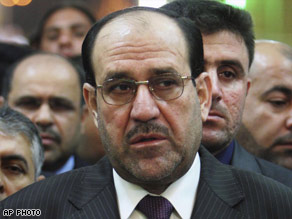 Iraqi Prime Minister Nuri al-Maliki has ordered the capture of those who killed four Iraqi journalists.
Al-Maliki called Saturday's killings a "heinous crime" and called on the security forces to bring the killers "to justice for the punishment they deserve."
The four employees of Iraqi satellite TV station Al-Sharqiya were abducted and killed Saturday as they videotaped a program that airs during the holy Muslim month of Ramadan.
The show, called "Your Iftar Is On Us," helps poor Iraqi families during Ramadan, which ends September 29 or 30. Iftar is the meal that breaks the Ramadan daily fast.
U.S. Ambassador to Iraq Ryan Crocker said the United States "strongly condemns" the attack, and praised al-Maliki's move to investigate "this reprehensible crime."
"The strength and vitality of a free press is the hallmark of an open and democratic society," Crocker said in a written statement. "Over the past few years, more than 200 journalists in Iraq have given their lives in the pursuit of truth ...
"We urge the government to take every reasonable measure to assure the safety of the dedicated Iraqis who are committed to this noble profession."
Those killed were Al-Sharqiya's Mosul bureau chief Musaab al-Azzawi, two cameramen and a driver, the station said.
In a televised announcement that interrupted regular programming, Dubai-based Al-Sharqiya described the gunmen as "forces of darkness" trying to "silence the voices of the free."
An Iraqi Interior Ministry official said the victims were dumped in the western al-Zanjili area of Mosul an hour after they were abducted.
Two suspects have been detained in Mosul, according to Nineveh province's military operations commander, Gen. Jalal Tawfeeq, who spoke to al-Sharqiya.
Under al-Maliki's order, Iraqi security forces in Nineveh province will form an investigative committee. The military will review video the crew had shot, Tawfeeq said.
Al-Sharqiya, owned by a London-based Iraqi media tycoon, is a controversial channel. The Iraqi government shut its Baghdad office in early 2007, accusing it of inciting violence and hate.
According to the Committee to Protect Journalists, 132 journalists and 50 media workers have been killed in Iraq since 2003. Most of the dead are Iraqi, and the number does not include those killed Saturday.
Also Saturday, a leader of a Sunni Awakening Council and three of the group's members were killed in a nighttime attack, the Interior Ministry said.
A bomb attached to the leader's vehicle detonated, killing him, his deputy and two guards, a ministry official said. A civilian bystander was wounded.
The attack took place in Hai al-Furat, a neighborhood in western Baghdad.
Awakening councils, composed largely of groups of Sunni former insurgents who turned against al Qaeda, are credited with helping reduce violence in Iraq. Al Qaeda in Iraq views council members as traitors and has targeted them.
Meanwhile, a U.S. soldier died Sunday of causes not related to combat, the U.S. military announced.
The military withheld the soldier's name until it could notify family members and released no other details.
E-mail to a friend

CNN's Jomana Karadsheh contributed to this report.
All About Iraq • Nuri al-Maliki • Awakening Council