BAGHDAD, Iraq (CNN) -- The politician known for providing false information to the United States about weapons of mass destruction in Iraq was the target of a suicide car bombing Friday, Iraq's Interior Ministry said.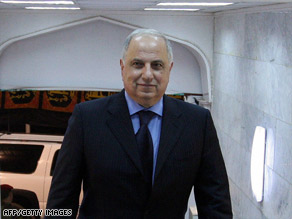 Ahmed Chalabi was the target of a car bombing attack, the Iraqi Interior Ministry said.
The suicide bombing targeting Shiite politician Ahmed Chalabi killed two people and injured at least 17 Friday in western Baghdad, the Ministry sad.
Chalabi, who escaped unharmed, confirmed the attack to CNN through an aide.
The controversial Iraqi politician's intelligence on weapons of mass destruction was cited, in part, as the justification for the 2003 U.S. invasion of Iraq.
The Interior Ministry said the car bombing happened near Chalabi's home in Baghdad's al-Mansour district.
At least one of the people killed was a civilian and authorities were uncertain Friday whether the other fatality was a civilian or a member of Chalabi's security detail.
Five of Chalabi's guards were among those wounded and three of his vehicles were damaged in the attack.
Chalabi, who was a deputy prime minister for a time after the invasion of Iraq, is now head of Iraq's Debaathification Committee -- a panel overseeing the activities of former members of deposed strongman Saddam Hussein's Baath Party.
He also oversees a committee working to restore basic services in Iraq.
The attack on Chalabi came the same day gunmen shot dead an adviser with Iraq's Defense Ministry elsewhere in Baghdad.
The earlier shooting, of Defense Ministry adviser Abdul Amir Hassan, happened when he was driving near his home in east Baghdad. Gunmen used guns equipped with silencers in that attack.
E-mail to a friend

All About Iraq • Saddam Hussein