BAGHDAD, Iraq (CNN) -- Two Iraqi cameramen remain in U.S. military custody amid a media watchdog group's warning of "an upsurge" in the arrest of journalists working in Iraq.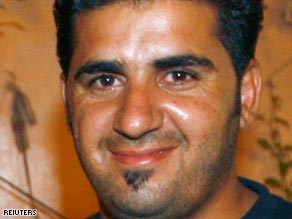 Ibrahim Jassam is a freelance photographer who has worked often for Reuters.
The U.S. military said Thursday both men, picked up in separate raids this week, were a "threat" to security in Iraq.
U.S. forces detained a cameraman employed by Baghdad TV -- a Sunni station -- early Thursday, after raiding his home in northern Baghdad's predominantly Sunni Adhamiya district around 2am local time, according to a Baghdad TV official.
He was detained days after U.S. forces conducted a similar raid on the home of Reuters cameraman Ibrahim Jassam, who also remains in military custody.
The Baghdad TV cameraman was detained along with several family members, including his father and two brothers, the official said. Baghdad TV is owned by the Sunni Arab Iraqi Islamic Party (IIP), the party of the country's Sunni Vice President Tariq al-Hashimi.
"A journalist was detained last night because he was assessed to be a threat to the security of Iraq and Coalition forces," U.S. military spokesman Maj. John Hall told CNN on Thursday. "He was seized along with others suspected of a terrorist bombing network."
A military press release on the raid identified those in custody as "a suspected car-bombing cell leader and three alleged associates."
"The alleged leader is reportedly involved in procurement of bombing components, construction of bombs and distribution to the cell, which has been known to attack Iraqi civilians in north Baghdad," the military release stated.
"He is also believed to have contact with terrorists around Iraq and internationally."
Hall would not say if the journalist was the alleged bomb leader or one of the three alleged associates. One other person, identified as "an armed terrorist," was killed in the raid, the military release stated.
Don't Miss
On Monday U.S. and Iraqi forces picked up Jassam after raiding his home in Mahmoudiya, south of Baghdad, an interior ministry official said.
"He is being detained because he has been assessed to be a threat to the security of Iraq and coalition forces," a U.S. military spokesman told CNN.
The London-based Reuters news agency is demanding more information about the detention of Jassam, a freelance photographer who has worked with it for about two years.
"We are concerned to hear about Jassam's detention, and urge the U.S. military to either charge or release him once an initial investigatory stage is concluded," Reuters Editor-in-Chief David Schlesinger said.
"Any accusations against a journalist should be aired publicly and dealt with fairly and swiftly, with the journalist having the right to counsel and present a defense," Schlesinger said. "Iraqi journalists like Jassam play a vital role in telling this story to the world."
Jassam's sister told Reuters that U.S. and Iraqi forces also confiscated his photography equipment.
Reporters Without Borders issued a statement on Wednesday demanding Jassam's immediate release and warning of "an upsurge in the number of arrests of journalists by Iraqi security forces or members of the coalition."
"To date the number of arrests in 2008 has already passed the number last year," Reporters Without Borders said. "Simply possessing a camera or a film camera seems to be taken as evidence that some journalists are involved in terrorist networks. We are baffled by the lack of discrimination by the authorities."
The Paris-based media advocacy organization said more than 20 journalists had been arrested in Iraq under similar circumstances since January 1.
All of them were released "after spending days or even months in custody without any charges being made against them," the organization said.
E-mail to a friend

CNN's Jomana Karadsheh contributed to this report.