BAGHDAD, Iraq (CNN) -- A bomb exploded Tuesday outside a police recruitment center in Iraq's Diyala province, killing at least 30 people, an Iraqi army official said.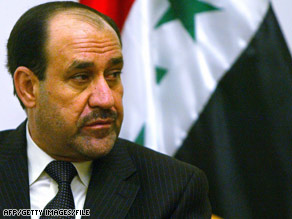 Violence continued in Iraq a day after PM Nuri al-Maliki said a U.S. withdrawal plan must not be "open-ended."
Nearly all the victims were Iraqi soldiers or recruits, the official said.
The official said the bomber drove a vehicle to the recruitment center and set off his explosives inside the vehicle.
Fifty-five others were wounded in the attack in the town of Jalawla.
Last month, Iraqi security forces backed by U.S. troops launched a large-scale military operation in Diyala to clear it of al Qaeda in Iraq and other insurgents.
In a separate incident, Iraqi police in Tikrit told CNN that a bomb in a parked car detonated Tuesday on a road close to the Salah Al-Din Health Administration Building. The convoy of the general manager of the health administration, Dr. Hassan Zein Al-Abideen, was targeted but survived the attack, police said.
Police said four people -- two civilians and two policemen -- were killed. Police said 14 people -- nine civilians and five policemen -- were wounded in the attack.
Iraqi and American joint forces surrounded the area and began searching it. The American forces arrested a young man found close to the site of the explosion.
American forces also went to Tikrit General Hospital and evacuated some of the wounded to an American hospital, police said.
The local authority in Tikrit imposed a security zone around the area, banning vehicles and individuals. Policemen also shut down shops in the area where the explosion took place, authorities said.
The bombings come a day after Iraqi Prime Minister Nuri al-Maliki said there will be no agreement on a U.S. withdrawal from Iraq unless it includes a "specific" timeline and is not "open-ended."
Speaking with tribal leaders, sheikhs and other prominent figures, al-Maliki said U.S. and Iraqi negotiators have agreed that there would be no foreign soldiers in Iraq after 2011 but that some "outstanding issues" remain, according to a statement released by his office.
One issue the two sides have been working on involves the U.S. effort to keep U.S. troops in Iraq immune from Iraqi laws.
The sides have discussed a proposal that would lift immunity for private contractors, making them subject to Iraqi laws.
Al-Maliki's statement Monday said he "will not allow the spilling of the blood of the sons of Iraq by granting open immunity."
E-mail to a friend

All About Al Qaeda in Iraq • Nuri al-Maliki • Iraq