By Arwa Damon
CNN

BAQUBA, Iraq (CNN) -- The woman ridicules the Iraqi police who question her about ties to suicide bombers.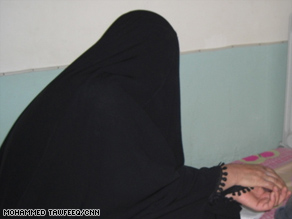 Umm Omar was questioned by police about ties to suicide bombers. "Why would I blow myself up?"
"Someone telling me to explode?" Umm Omar says. "I have to be both mother and father to my children. Why would I blow myself up?"
Strangely, she even laughs at some points of the interrogation. Umm Omar was detained along with her two daughters in a recent raid in Baquba.
All of them are suspected of wanting to blow themselves up in suicide attacks. She was brought to one of the police offices here for questioning.

Watch the interrogation of an Iraqi mom »
Covered in an abaya -- black Islamic dress -- she has a broad face and large eyes. She sits on a thin mattress smoking the cigarette an Iraqi police officer offered her.
Her interrogator confronts her about a letter the Iraqi police say they uncovered on the raid on her home. The letter is addressed to "Umm Omar" from the local al Qaeda emir Abu Dawood.
"Good news for you my sister, Umm Omar," it says. "Your sister Fatima became a martyr after an operation in Mafraq district, and God enabled her to carry out this blessed operation.
"Know that she did not hesitate in confronting the infidels and tyranny. We pray to God that you follow her in God's course. We inform you, Umm Omar, that this letter is very confidential."
Umm Omar shrugs it off. "I cannot read, so why would he send this to me?"
She goes by the name of Umm Omar. In the Middle East, Umm -- means mother -- followed by the eldest son's name, in her case Omar. She says the Umm Omar reference could be just about any woman in Iraq.
Her profile fits that of other women who have carried out suicide attacks.
U.S. intelligence on the psyche of female suicide bombers suggests the women have various motives; some have links to al Qaeda -- sons, husbands, fathers killed in the fighting -- and are seeking revenge.
The intelligence also suggests al Qaeda is seeking out women whose families are struggling financially, making cash promises to them but not paying out. Others are young widows or women who are deeply religious and swayed by the promise of heavenly rewards.
Maj. Gen. Mark Hertling, earlier this year, spoke to reporters about this issue. "We do see certain members of cells attempting to persuade women. Specifically in many cases, wives of those who have been killed as terrorists conduct suicide operations," he said.
Umm Omar's husband has been jailed at Camp Bucca on terrorism charges for three years. Her two sons and her son-in-law are dead. Iraqi police say the son-in-law was a member of the insurgency killed in clashes with them.
"Her family has been completely destroyed," says Brig. Gen. Abdul Karim Khalaf, spokesman for Iraq's Ministry of Interior.
Khalaf explains the letter to Umm Omar was found in an "intelligence-driven raid."
"We received intelligence that this family was dealing with al Qaeda and other criminals. This letter is from Abu Dawood; he is the one in charge of recruiting female suicide bombers," he says from the dark room that serves as his temporary office and residence at the governor's compound in Baquba.
Umm Omar is from a neighborhood in Baquba that was once the center of "the Islamic State of Iraq," an umbrella group headed by al Qaeda in Iraq.
The city of Baquba is the capital of the volatile province of Diyala and is at the center of the insurgency's suicide bombing operations. In the first seven months of this year, there were more than two dozen female suicide bombers. About half of those attacks were carried in Diyala.
The U.S. military, working with Iraqi units, has been actively raiding suspected cells of female suicide bombers. Umm Omar was detained as part of a joint U.S. and Iraqi crackdown throughout the whole province.
"The psychological pressures of the security situation that we used to have in Diyala -- the systematic killing, especially in some parts of Baquba where the government's forces presence was weak -- allowed the insurgents to use religion to exploit women," Khalaf says.
He adds, "Women bombers are a problem for us."
"Men can't search women," Khalaf says. "This is a red line. So they take advantage of this weakness in Iraqi society"
As part of the efforts here, U.S. and Iraqi forces have been recruiting women, training them to search other females. But the program is relatively new and quite simply it's not enough, officials say.
Umm Omar remains in custody, but her daughters were released because of a lack of evidence.
Despite her denials, police suspect the mom and daughters may still intend to carry out an attack. Umm Omar says she doesn't believe her daughters would ever be suicide bombers.
But 48 hours after CNN met Umm Omar, a female suicide bomber targeted a police station in Baquba. One policeman was killed and 17 other people were wounded.
Police are following up on all their leads, and they went to check on Umm Omar's daughters. One of their relatives said they were at their uncle's house; their uncle said they had gone to Baghdad, police say.
The police are more suspicious than ever and are still searching for Umm Omar's daughters.
E-mail to a friend

All About War and Conflict • Iraq War • Al Qaeda in Iraq